Krystal Meyers Fast-Tracks on Self-Titled, Rock & Roll Debut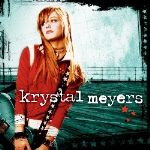 Artist: Krystal Meyers
Title: "Krystal Meyers"
Label: Essential
Sixteen-year-old singer/ songwriter Krystal Meyers is fast-tracking on her debut with a little help from The Wizardz of Oz (Avril Lavigne, Liz Phair) and artist/ producer Ian Eskelin. All that at the ripe old age of 16.
Meyers must have eaten her artistic Wheaties — she was penning songs by age 10 and playing the guitar by 13. The angst-ridden environment of the teen years helped birth the signature flavor of her songs; Krystal co-wrote "Anticonformity," a rebuff of needing everyone's permission to be herself at youth camp when she was a freshman in high school: "It's all around/ pressure from my so-called friends/ It's all around/ I'm measured by some stupid trend."
As it turns out, that "demanding individuality" theme delivered the material for most of this project, but don't expect standard under-21 fare. Krystal uses the fact that she's a teenager to speak frankly to the tragically jaded in their mother tongue. Her tenacious alto weaves through largely cliché-less verses to take a hard look into the confused, youthful soul.
The Avril-ish "The Way to Begin" (already a No. 1 Christian pop radio hit) is a punky, honest take on disappointment; the guitar-driven "Fire" is pure sonic fun, invoking images of a sweltering summer night in a rocking arena, as if it were written for that exact moment. It's like a rock & roll diary spiked with a little barbed wire and a lot of heart: stick-to-your-ribs good.
If this project is any indication of what will come, Meyers' talent will shimmer for years.

© 2005 CCM Magazine. All rights reserved. Used with permission. Click here to subscribe.

See the latest Krystal Meyers music videos at Godtube.com!