Kutless Impresses on Stage in "Live From Portland"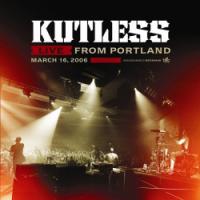 Artist: Kutless
Title: "Live from Portland" CD/DVD
Label: BEC
Stout sound production and dazzling videography make for an impressive CD/DVD set capturing a stellar hometown performance from five-piece rock outfit Kutless. The recording took place on March 16, 2006, during the band's "Hearts of the Innocent Tour."
While the CD contains virtually the same set list as the DVD (save for a drum solo), the latter offering stands apart. Featuring a complete 70-minute concert, the video captures the essence of Kutless' high-energy show before an
electrified crowd.
Front-man Jon Micah Sumrall takes command of the proceedings from the get-go. Whether he's persuading fans to put their fists in the air during "Treason" or jump up and down during "Not What You See," he keeps everyone fully engaged. The vocalist also takes time between songs to share earnest thoughts about following Christ. Viewers at home, though, will likely grow weary of Sumrall's banal call-out queries like, "How're you feeling out there, Portland?"
Much of the camera work is taken from the front and side, and while the majority of the close-ups feature Sumrall, the supporting cast gets decent face time. Producers wisely alternate between color and the sepia effect, while lighting technicians rely on cascading illumination to keep things intriguing.
Kutless plays several praise-oriented offerings ("Sea of Faces," "Strong Tower," "Not What You See"), but the band largely churns out a cavalcade of intense, high-decibel numbers such as "Run," "Pride Away" and "Tonight," a Creed-esque song on which Sumrall channels his inner Scott Stapp. During "Your Touch," the final encore track, the singer dives into the adoring crowd.
The DVD also includes a well-crafted conceptual video of "Shut Me Out," replete with gun-toting bad guys, no less. One shortcoming is a humdrum behind-the-scenes segment that focuses too much on the "it's-been-a-great-tour" prattle and not nearly enough on the day-to-day idiosyncrasies of guys living together on the road. Note to would-be viewers: stick to the concert section … it rocks.





© 2007 CCM Magazine. All rights reserved. Used with permission. Click here to subscribe.