L.A. Symphony Still Visible on Second Gotee CD, "Disappear"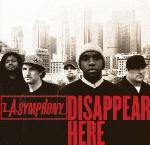 Artist:  L.A. Symphony
Title:  "Disappear"
Label:  Gotee
L.A. Symphony has survived the industry wringer, bouncing from indie to a big label to indie again before landing with Gotee. In the process, it lost an entire big-budget recording ("Call It What You Want," its would've-been Squint debut) to the annals of "record deals gone wrong."
But L.A. Symphony has kept coming back. "Disappear Here" is its second album in the same place label-wise, and members are settling into a groove started on "The End Is Now," which mixes whimsical elements of friend will.i.am's Black Eyed Peas with Snoop Dogg-ier, 'hood-friendlier conventions.
The CD's first half has some clever lines, sure; but its tracks are by-and-large flat, its rhymes too easy and supported by few of the hooks that make an OK song one you can't get out of your head. The chugging "Hold On" changes that course, though, with a familiar message ["you'll reach your destiny/ you'll reach your goal/ you'll find that strength deep down in your soul … hold on, my people, in the thick of the fight"]. The Latin-flavored "C'est La Vie" cameos gospel wild-man Tonéx, while "Grand Piano" sports a rock-hard loop and Spartan track. 
"Disappear Here"'s peak comes late:  the kinetic "Less Than Zero" uses all the rappers in a sublime rapid-fire dissection of Hollywood's dark side and the emptiness of the quest for stardom. It and "Rise" recover that missing hookiness, while "Pop's Song" pulls off a father's tribute, a sentimental topic with a clever treatment ["I didn't get whippings/ I got African beatings"].
The Symph's eclectic line-up – a real strength that keeps us guessing who's gonna flow next – and its flexible sound have earned both critical props and street cred that's deeper than hype; this isn't the group's very best, at least for the first few cuts; but dig deeper, and you'll find the reason these artists haven't disappeared.

© 2005 CCM Magazine.  All rights reserved.  Used with permission.   Click here to subscribe.