Lecrae's Beats Grab Attention on Rebel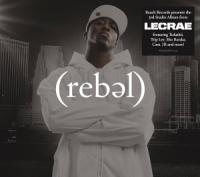 Artist: Lecrae
Title: Rebel
Label: Reach
The spiritual side of the streets …
Even though Lecrae honed his rhyming chops on the streets of Houston as a teenager, the rapper never succumbed to the gang-infested lifestyle. Instead, he accepted Christ at 19, focused on refining his skills on the mic and channeled that creative energy into the debut disc After the Music Stops.
Along the way he also co-founded ReachLife Ministries (geared toward culturally and spiritually relevant outreach to young people in local communities) and also became the first ever Christian rap CD to debut atop Billboard's Top Gospel Charts with the release of the brand-new Rebel.
That position is easy to understand given the attention-grabbing beats and even more insightful lyrics throughout the album, starting with the call-to-arms cut "Don't Waste Your Life," wrapped around slick programmed beats and accompanying rap action from Dwayne Tryumf. "Indwelling Sin" is all about resisting sexual and substance-related temptation, as Lecrae cleverly trades verses with his inner conscience, consistently choosing Christ over the world's aura.
"Change" is a soulful, keyboard-infused dance track that further talks about turning a shattered life around, while "Fall Back" (featuring Trip Lee) is an old-school, LL Cool J-like romp that also echoes grace and renewal. Though the production throughout "I'm a Saint" isn't as rich as it should be, the militant chorus is especially memorable and sure to inspire in a similar fashion as the above in terms of turning away from Satan.
"Beautiful Feet" shifts the focus toward reaching out to the poor and downtrodden, rounding out the record with a proactive approach that can practically put a newfound or renewed faith into action.


© 2008 CMCentral.com. All rights reserved. Used with permission.




Visit CMCentral.com now and join the single largest online community of Christian music fans on the internet. CMCentral features daily music news, exclusive interviews, album reviews, weekly devotions and feature articles written by some of your favorite Christian artists, and much more. CMCentral is also the home of the most popular Forum for Christian music fans that you'll find anywhere on the Internet. Come see what all the buzz is about!

**This review first published on December 11, 2008.