Leeland Stays Vertically Minded on Love Is on the Move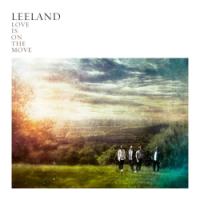 Artist: Leeland
Title: Love Is on the Move
Label: Essential Records
Leeland continues to impress …
"It's just you and me, Jesus," sings Leeland Mooring on "The Door," the opening track on Leeland's latest album, Love Is on the Move.
The statement serves as a proper introduction to an incredibly vertical album—and those familiar with Leeland shouldn't expect anything different. After all, the Texas act's first two discs and live shows are similarly drenched in love songs for God and cries for the Spirit to move.
Love Is on the Move features more of what many love about Leeland—spiritually challenging or encouraging songs set to some of the strongest melodies in the business. "Follow You," also featuring Brandon Heath, serves as a stellar rock vehicle for the band to pledge their help to justice causes around the world. The synth sounds on "Pure Bride" offer a fantastic respite a few songs into Love, before letting the guitars get back to work on the superb "Carry Me on Your Back." "Lift Your Eyes Up" rides interesting percussion and piano progressions before giving way to a stunning string arrangement at song's end. This track is the highlight of the second half and should become an audience favorite.
For the most part, Leeland continues a little further down roads already traveled on previous efforts. But for a young band, it's important to establish an identity, and, for Leeland, that would be as one of the best bands in the industry.



© 2009 CMCentral.com. All rights reserved. Used with permission.




Visit CMCentral.com now and join the single largest online community of Christian music fans on the internet. CMCentral features daily music news, exclusive interviews, album reviews, weekly devotions and feature articles written by some of your favorite Christian artists, and much more. CMCentral is also the home of the most popular Forum for Christian music fans that you'll find anywhere on the Internet. Come see what all the buzz is about!

**This review first published on October 20, 2009.

Check out Leeland music videos at Godtube.com.