Life Goes on in Rice's What a Heart Is Beating for
Kevan Breitinger

CMCentral.com

2007

2 Aug

COMMENTS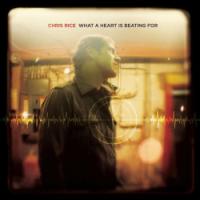 Artist: Chris Rice
Title: What a Heart Is Beating for
Label: INO Records
Chris Rice already had a nice little career going for him, even a few Dove Awards, when he changed stylistic horses midstream, leaving his longtime label home to partner with producer/friend Monroe Jones in the new and innovative imprint Eb+ Flo.
To my mind, it was a change for the better, and apparently that was the general consensus as well, for Rice scored big with next album Amusing, even garnering himself a mainstream AC radio hit with "When Did You Fall." What a Heart Is Beating for, his sixth studio record, takes that conversation to the next level, in terms of literate snappy pop tracks that cover issues both romantic and spiritual; in other words, life. Rice clearly enjoys this new freedom, calling it his "new coloring book" from God, and his own pleasure spills over into the twelve tracks of What a Heart Is Beating for.
Rice claims he tried to write a sad song in response to a fan's request, but the sunny home-spun "So Much for My Sad Song" poured out instead. While I enjoyed the warm trumpet and edgy guitars on the way out, he does veer dangerously close to sappy. Considering the album's wide array of irresistible pop tracks, it might not be the most winning of openers, but the following title track hits back hard with excellence across the board. Perfect production, enthralling Beatle-esque movements, insightful lyrics, and those warm compelling vocals . . . oh my. The gorgeous track swells to a undulating crescendo of guitar ecstasy, drawing you into its poignant message of risking love.
Guitars also shine brilliantly through the bouncy jazz-flaired "Pardon My Dust," another cleverly written pop track that goes deeper than is immediately obvious. "Love Is Gonna Break through" is delivered with tender expressiveness, Rice's husky vocals moving fluidly to soulful falsetto and back as he lays out the relentless Presence of Love throughout all circumstances. The incisive social commentary of "You Don't Have to Yell" is presented with appealing gentleness, and a call back to simpler times is delivered equally smoothly in the note-bending pop track, "Kids Again."
You could easily misread Rice's happy little pop music as easy listening, what with the spun sugar of "Lemonade" or the quirky tale inside jangly rocker "Sneakin' into Heaven," but it would be a mistake. Don't underestimate the power of the hymn-like "Tell Me the Story Again," an emotive piano ballad that presents the story of Christ through lyrical snippets of life interwoven with scriptural images of life and salvation. Or listen as Rice slowly unfurls his soulful message of the Presence that endures through the quiet piano chords of "Punch Lines and Ironies."
The topic of love gets covered with the same piercing potency, i.e., the swirling romanticism of "Let the Words Escape," although it does begin to drag by track's end. So not dragging is the irresistibly charming "Here Comes Those Eyes," a short but snappy love song positively zinging with personality.
What a Heart Is Beating for wraps up on a serious note with the interesting closer "Baby Take Your Bow," an oddly warm goodbye song whose chorus rings: "Your show is over now/ It's time to lay your burden down/ So baby, take your bow." See, not everybody could get away with that, but Chris Rice's level of whimsical charm and ironic creativity makes it work. It would really be quite difficult not to like What a Heart Is Beating for. Don't fight the feeling.

© 2007 CMCentral.com. All rights reserved. Used with permission.



Visit CMCentral.com now and join the single largest online community of Christian music fans on the internet. CMCentral features daily music news, exclusive interviews, album reviews, weekly devotions and feature articles written by some of your favorite Christian artists, and much more. CMCentral is also the home of the most popular Forum for Christian music fans that you'll find anywhere on the Internet. Come see what all the buzz is about!