Live Monsters Captures the Jars Concert Experience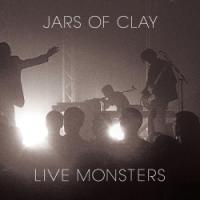 Artist: Jars of Clay
Title: Live Monsters
Label: Essential Records
Jars of Clay's critically acclaimed Good Monsters, containing some of the band's most satisfying and aggressive rock, was meant to be played and experienced live. The good folks at Presonus and Sweetwater Sound put together a mean mobile recording rig to enable listeners to come as close to it as possible.
The 24-mics deliver flawless sound quality, and the minimal post-production enhances the clarity even further, making you feel as if you could see the sweat dripping from Dan Haseltine's brow onto the first row. It's a truly superb live recording of one of our premier bands, although some will quibble with its length. At 33 minutes, the 7 track disc is offered at the low, low price of under $8.00—some very well spent pennies.
Live Monsters features six of Good Monsters' illustrious tracks and an irresistible, rootsy version of "There Is a River.," The live cuts were collected during the spring and fall legs of the Good Monsters tour, but the album moves seamlessly through the various performances. The band is energetic throughout, from the rock solid delivery of rousing opener "Work," to the freakishly pop hit "Dead Man (Carry Me)." The band is on fire, harmonies never missing and the musicianship on point. The challenging, poignant lyrics of "Good Monsters" are delivered on the back of Steve Mason's and Matt Odmark's burly guitars, impossible to overlook. Twangy steel guitar work enriches a haunting, majestic rendition of "Oh My God," the passion falling off the epic track in fat, wet drips. The crowd responds accordingly, adding to the already high excitement level.
A 12-string lumbers under the dark lyrics of "Surprise," supported by lustrous BGVs. But it's the showstopping "Light Gives Heat" that brings the house down. Haseltine sings down the Lord's perspective on those who suffer in Africa while the glistening rocker moves through its stirring paces. Jars of Clay has never sounded stronger, and although it is cruelly brief, Live Monsters is a must-have for any Jars fan or any student of purposeful folk-rock.




© 2007 CMCentral.com. All rights reserved. Used with permission.



Visit CMCentral.com now and join the single largest online community of Christian music fans on the internet. CMCentral features daily music news, exclusive interviews, album reviews, weekly devotions and feature articles written by some of your favorite Christian artists, and much more. CMCentral is also the home of the most popular Forum for Christian music fans that you'll find anywhere on the Internet. Come see what all the buzz is about!