"Live Wire" a Curiously Understated DVD from Third Day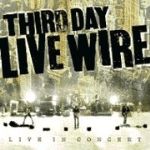 Artist:  Third Day
Title:  Live Wire DVD
Label:  Provident Label Group
Hot on the heels of its latest release, "Wire," Third Day invites the world to a special night in Louisville, Kentucky. On a sparse stage in front of a large black and white cityscape backdrop, in front of a cheering standing-room crowd, singer Mac Powell and his band mates leap into a live set of notable hits and worship songs. Focused almost completely on the live show, "Live Wire" is clearly an ode to the band's most dedicated fans, "the Gomers."
Fancy camera work never masks this band's everyman, blue-collar style. In an ironic twist, the self-deprecating lyrics to the intro "Rock Star" do not seem far off the mark. This isn't a "Monsters of Rock" show; rather, the band seems a bit subdued and "by the numbers" in its performance approach for nearly three quarters of the show. The stage production values are minimal, and the requisite backstage clips provide no insight into the band. But, then again, maybe that is the point. This is a band that apparently wants the music to speak for the band members and to stand on its own proverbial two feet.
This is not to say that the DVD doesn't have its moments. "Live Wire" really peaks with a heart-tugging version of "It's a Shame" and the fired-up, down-home stomp on "Blackbird." Extras include personal band testimonies of the guys' travels to Africa and a plea to support World Vision's work with the AIDS Crisis. A shockingly moving montage is juxtaposed against the worship song "Offerings," which, in two minutes, redeemed this curiously understated DVD.

© 2005 CCM Magazine.  All rights reserved.  Used with permission.  Click here to subscribe.