"Live Worship: Blessed Be Your Name" - Music Review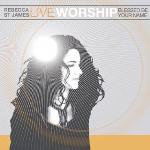 Artist:   Rebecca St. James
Label:   Forefront
Australian pop queen Rebecca St. James may have made fans wait a while since properly following up her last studio disc, "Transform," but at least she's kept fans from starving with the release of several other projects. "Worship God" was able to showcase St. James' praise interpretations (plus a handful of original songs). And her recent career retrospective brought to light just how much her repertoire has developed since adolescence.
Now her latest offering further traces Rebecca's growth, particularly as a worship leader and cutting-edge instrumental arranger; but this time it's in the concert setting (culled from last year's "Let My Words Be Few" tour). As a result, many of the sounds you'll hear are beefed up and fleshed out, courtesy of a live band. Familiar favorites like "Here I Am to Worship" and "Above All" feature an alternative twist, thanks to Rebecca's corralling vocals and the band's loop-driven interpretation ingenuity. On the original front, alumni of the "Worship God" sessions include the fellow keyboard-stocked "Lamb of God" and the reverent rhythmic thump of "Omega," certifying this record as yet another splendid salivating point for new material.

© 2004 CCM Magazine.  All rights reserved.  Used with permission.  Click here to subscribe.