Lonely for the Last Time - Music Review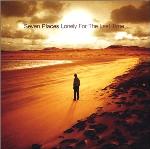 Artist:    Seven Places
Label:   BEC Recordings

It's not often that a modern rock band with general-market potential presents itself primarily as a ministry-focused outfit. But that's just part of what makes Seven Places and its full-length debut so distinct.

Here's a group whose moniker refers to the parts of Jesus' body from which He bled to redeem humankind. Then there's the album's earnest subject matter, such as the title track's theme of finding one's identity in Christ and radio-friendly rocker "Like It Never Happened" that conveys God's unconditional forgiveness. Also compelling is front man Seth Gilbert, whose stout vocals compare favorably to Switchfoot's Jon Foreman.

Woven deep within the framework of this disc is a spiritual and emotional intensity normally found only in the most extraordinary fledgling artists (paging early Jars of Clay). How many other groups could record a song like "Western Wall," a dissonance-soaked number inspired by a trip to Israel? Hey, we told ya this band was different!

Used by permission.  CCM Magazine © 2003  Click here to subscribe.