Lonely Hearts Resurfaces With New Name and "Paper Tapes"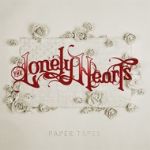 Artist:  The Lonely Hearts
Title:  "Paper Tapes"
Label:  Tooth & Nail Records
Little did the band formerly known as Holland realize that its maiden release, 2003's "Photographs & Tidalwaves" (Tooth & Nail), was an identity crisis of sorts. You see, brothers Will and Josiah Holland grew up in a music-loving family, one that paid its respects to such greats as Bob Dylan, The Band and Gram Parsons, not the conventionality of Jimmy Eat World, Foo Fighters, and the shimmering rock sounds of their national debut.
Now, three years later, and more interested in making their parents and The Beatles proud than succumbing to fickle pop trends, "Holland" re-christened itself as "The Lonely Hearts" and recorded "Paper Tapes," an effort they claim is the closest to their creative heart.
Though they're not as Americana-influenced as they let on – their website goes on at length about their deep admiration for roots music, almost to the point of crowning them heirs to the Neil Young estate – "Paper Tapes" is most adequately described as a placid acoustic rock record with a big, insistent pop-shaped heart. Think The Thrills meets The Byrds, with added traces of Snow Patrol and Gin Blossoms for an air of modernity.
"Passive Aggressive" is an apropos testament to this shift in direction both in title and style, a pop/rock jewel with slight Brit affectations and an infectious chorus. Though Will sings, "I can't believe in anything that feels like honey, honey," ironically the set can't help but drip with sweetness, a trend that continues with the melodic indelibility of "Love and Politics" and "Heartbreaker," two songs that are diametrically opposed in compositional delivery yet similar in the spirit they evoke.
Country elements – a slide guitar solo here, jangled sonics there, harmonies with a hint of twang over there – invade The Lonely Hearts' methodology in spots, but they never become the centerpiece of their blue-collar brand of folksy pop/rock, one so sunny that it gravitates more intently towards California's shores than America's heartland. At times, they'll fool you, like in the impossibly countrified "Love Comes Quickly," but, at its core, "Paper Tapes" is adult alternative music in a blissful pop guise, a mature triumph for a band whose members are still in their twenties.


© 2006 CCM Magazine.  All rights reserved.  Used with permission.   Click here to subscribe.