"Lose This Life" - Music Review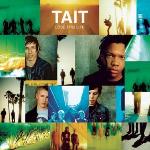 Artist:     Tait
Label:    ForeFront Records
In the grand tradition of artists recording solo projects apart from the band that made them a household name, Michael Tait's first effort under the Tait moniker wasn't the usual exercise of artistic vanity. Rather, it comfortably reflected the diverse pop/rock musical sensibilities that dc Talk embraced on its last studio project, "Supernatural" (ForeFront), with catchy songs seemingly tailor-made for Christian radio.
While these songs could've been viewed as a safe choice to please the dc Talk faithful, it was Tait's dynamic live show that upped the ante and really brought these songs to life. With Michael's incredible stage presence as a front man, his remarkable ability to work a crowd and a stellar backing band that wasn't afraid to flex its musical muscle, Tait took an adequate group of songs and made them extraordinary in true rock 'n' roll splendor.
Now on the band's sophomore project, "Lose This Life," it seems Tait has taken note of this musical memo and made an album that aptly showcases the strength of its live sound. With gutsy guitar punch, stronger arrangements that don't predictably bury the music beneath the vocals and a frisky, impromptu integration of tasteful electronic elements to keep things fresh, this project is a sonic quantum leap from its predecessor. Giving the best credence is the U2-esque buildup on the title track and the yearning guitar wail of "Wait." There's also the playful cover of Eddy Grant's '80s club mainstay "Electric Avenue," a rendition that's actually more fun than the original and even socially relevant as the lyrics are actually discernable. Before hearing this version, I had no idea what Grant was mumbling about. Now, everyone can rest easy.
Musically speaking, "Lose This Life" largely excels with Michael's trademark vocal delivery and the aforementioned musical progression. Lyrically, listeners can't help admiring that Michael and his fellow bandmates — namely drummer Chad Chapin — have stepped up to the plate with handling the bulk of the songwriting chores. But the occasional instances of simplistic lyrics and common takes on familiar Christian subject matter on tracks like "Free Will", "Fallen" and "Holding Out for Grace" leave room for continual songwriting growth on future endeavors.

© 2003 CCM Magazine.  All rights reserved.  Used with permission.  Click here to subscribe.