Love and Thunder - Music Review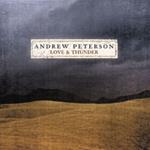 Since his debut in 2000, Andrew Peterson has become a treasured singer/songwriter whose textured folk stylings and delicate acoustics allow his storybook lyrics to come alive.
His topical explorations on the Steve Hindalong-produced Love and Thunder range from the sovereignty of God ("Serve Hymn"), to a chilling resurrection account ("High Noon"), to a satirical look at fatherhood ("Family Man"). The project's centerpiece, "Just As I Am," features vocals by Caedmon's Call's Cliff Young and speaks of Christ's unconditional love in a distinctly City on a Hill tone.
Throughout such cuts and the six others, you'll find a supplementary smattering of placid acoustics, frolicking folk, bits of banjo-driven bluegrass and even some subtle strings, furthering the classic mood you've come to expect from this troubadour.

Used by permission.  CCM Magazine © 2003  Click here to subscribe.