Love God. Love People. an Ambitious Mix for Israel Houghton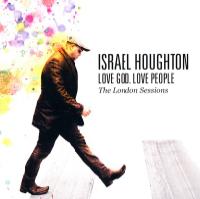 Artist:
Israel Houghton
Title:
Love God. Love People.
Label:
Integrity Music
In the spirit of the
Bible
's greatest commandment reflected in its title,
Israel Houghton
's new album is both simple and epic—a clearly ambitious mix of R&B, gospel, pop, worship, and rock packed with big moments that all boil down to loving God and loving your neighbor. And like a life faithful to that call, this standout project pursues joy, looks earthly challenges in the eye, and stays focused on eternal rewards.
Before the first note is played, Houghton's elation over recording
Love God. Love People.
at England's legendary Abbey Road Studios is made evident. His enthusiasm rises through the first four songs; blending '70s and '80s urban radio influences (Stevie Wonder, The Whispers) on "That's Why I Love You" and the title track while adding a soulful Sunday morning vibe to "Yahweh (The Lifter)" and even some duly Beatlesque guitars and lyrical turnarounds to "Love Rev." Showcasing the multiple GRAMMY Award winner's unique way of making a point, the latter cut comically contrasts the laments of the comfortable (a slow Internet connection, a late pizza delivery) with real life-or-death Third World struggles. But if there's a time to really smile, it's on the exuberantly funky "Mercies" when Israel introduces his special guest ("
Kirk Franklin
is in the building; release the horns!") and two of today's top gospel entertainers throw down.
Deeper in and with backup from the
London Session Orchestra
, "Others" marks the heart of the record when Houghton gently sings, "I see the state of the world, and it grieves me / So I want to love like You love / I want to love others the way that You love me." In relation, another special guest,
Fred Hammond
, brings his signature bass and vocals to "Surprises," a smooth meditation on God's unconditional love that grooves along for seven-and-a-half delightful minutes.
For all of those stellar cuts, you may still hear more buzz about Israel's unexpectedly cool cover of the recent
Passion
/
Chris Tomlin
hit "Our God" (a mellow electronic rendering) or the all-out finale, "Hosanna (Be Lifted Higher)," a slowly erupting, film score-like expression of praise featuring members of
Take 6
, string sections, heavenly choirs, and ethereal guitars.
Quite likely, established Israel Houghton fans won't need to be persuaded to check out this stellar set. For anyone else considering an introduction to his genre-defying talent, there's nothing to not love about
Love God. Love People.


**This review first published on September 16, 2010.