Love Out Loud a Fine Return for Jaci Velasquez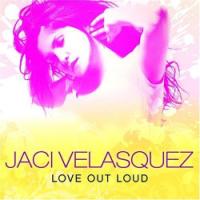 Artist: Jaci Velasquez
Title: Love Out Loud
Label: Word Records
Love Out Loud, Jaci Velasquez' 13th record and debut release on her own Apostrophe Records label, should earn the popular pop artist a warm welcome back to the fold. She's not reinventing the form or anything, but the album serves up eleven tracks of competent pop tracks, some more interesting than others. She has stepped up a bit as a songwriter, however, co-writing the majority of the new tracks.

The disc opens up on an optimistic note with the upbeat pop track "Nothing But Sky," Jaci's vocals strong as ever. "It's Not You, It's Me" is a dramatic track, from its topic (her relationship with her dad following the divorce of her parents) to its delivery, her vocals big on the chorus, also big. Next up is the title track and first single, a percolating pop song encouraging listeners to "be his hands, be his feet, be the people we are called to be." While Velasquez has been out of the public eye since she married Salvador front-man Nic Gonzales and had a baby, and her contentment clearly flavors the new record, its message of positivity showing up in almost every track, this one included.

I liked the quiet simmer of worship track "Jesus (The Way)" and enjoyed the airy beginning of piano ballad "Weightless." But midway through, big strings enter and their intensifying presence and other pulsating nuances eventually get too thick, too dramatic for my taste. "A Likely Story," telling the story of her courtship with Gonzales, takes a more delicate approach, allowing Velasquez' signature, sultry vocal to shine. I read that she is taking quite a bit of heat for the sizzler "Tango," but I don't understand why. The fiery Latin track and her scorching vocal have been criticized for being too hot, too suggestive, but I found that the track only helped the project by injecting personality. It's actually one of the album's better tracks, as is "Por Escrito," a warm Spanish duet sung with Gonzales over simple Spanish guitar.

"Into The Light" is another encourager, an upbeat testimony song, before the jammin' beat-driven outro "Nothing But Sky," which sends the album off on a high note. A bit of a mixed bag, but it's still great to welcome Jaci Velasquez back into the game.




© 2008 CMCentral.com. All rights reserved. Used with permission.




Visit CMCentral.com now and join the single largest online community of Christian music fans on the internet. CMCentral features daily music news, exclusive interviews, album reviews, weekly devotions and feature articles written by some of your favorite Christian artists, and much more. CMCentral is also the home of the most popular Forum for Christian music fans that you'll find anywhere on the Internet. Come see what all the buzz is about!


**This review first published on March 31, 2008.