Luminate Fits in Nicely with the Current Pop/Rock Landscape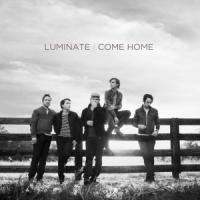 Artist: Luminate
Title: Come Home
Label: Sparrow Records

A surprisingly mature debut from new pop/rock outfit Luminate ...

With a name that is a verb meaning to shine in the darkness, Luminate enters the scene with a full-length debut that combines artful lyrics with textured layers of musical dexterity. The five-piece hailing from Tyler, Texas, released several independent albums prior to landing a major label deal with Sparrow Records. The songs on debut Come Home speak of cohesiveness and maturity born only of experience. After all, the five guys who make up the pop/rock outfit are young, yet lyrically, they write from old souls.

This is evident in the title track where the lyrics hearken back to hearts ever reflecting upon the undeserved gift of grace offered to us all: "It's never too late, you can't outrun grace/No, mercy doesn't care what you've done/So come home."

"What I Live For" and "Hope Is Rising" are two highlights featuring the band's lyrical depth and advanced musicianship. Their songs tell stories of forgiveness, starting over, accepting grace and embracing the identity a new life in Christ provides. The songs seem to have been birthed from familiarity, as if the young men know a thing or two about the topics they are authentically singing about. With the way the songs are delivered, it's easy to believe the singer. From the first beats of opening track "Innocent" to the resounding chords of closer "This Is Love," the songs are an intelligent mixture of modern worship and enjoyable pop sensibilities.

The band's sound is often hard to pinpoint. Perhaps this has something to do with the fact that three of the best producers in the business—Paul Moak, Ed Cash and Ben Glover—share credits on the album, each leaving their distinct mark on the record. At times, front man Sam Hancock's earnest cries are reminiscent of Phil Wickham and Phillip LaRue; yet often, his vocals recall the grittiness of NEEDTOBREATHE lead singer Bear Rinehart. Still, the textured music is also akin to Tenth Avenue North's brand of modern worship—layered, emotive, melodic. However you categorize their music, Luminate fits in nicely with the current pop/rock landscape. The only downfall is that in an effort to maintain a unified sound, many of the tracks run together and end up sounding the same.

There's a large amount of possibility bottled up in Come Home, a lot for fans to like. Hopefully there are enough distinct qualities for the cream of the crop to rise to the top.


**This review first published on January 27, 2011.

You can see all the latest Luminate music videos at Godtube.com.