Manafest Raps for All People on Citizens Activ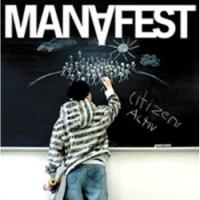 Artist: Manafest
Title: Citizens Activ
Label: BEC Recordings
Where skateboarding, streets and spirituality collide …
Canadian-bred rapper Manafest (aka Chris Greenwood) turns in his third national release with Citizens Activ, which builds off the KJ-52 meets Linkin Park pedigree of 2006's Glory.
Similar to Prince's numeric titling of recent years, the disc launches with "4321," a song just as credible in the crunk community as it would be in the turntable-infused dance club. "So Beautiful" builds upon those soulful grooves to incorporate a full-band flavor, winding militant guitars and piercing drums over the ringleader's tobyMac-flavored raps.

The melodic mixture of pop/punk and rap throughout "Kick It" could quite possibly become a skate park staple. The dirty acoustics of "Live On" empower the impoverished to rise above the circumstances of their neighborhoods; while the Eminem-styled "Lean on Me" is even more vertically focused, centering around Christian accountability for lifelong friends.
In fact, the only sour step is "Top of the World," which is characterized by an annoying percussion pattern that falls somewhere between overly repetitive hand claps and foot stomps. But beyond that blunder, Manafest shines with a meaningful centering and corresponding soundtrack he can just as easily take to church youth group kids as he can the inner city streets.


© 2008 CMCentral.com. All rights reserved. Used with permission.




Visit CMCentral.com now and join the single largest online community of Christian music fans on the internet. CMCentral features daily music news, exclusive interviews, album reviews, weekly devotions and feature articles written by some of your favorite Christian artists, and much more. CMCentral is also the home of the most popular Forum for Christian music fans that you'll find anywhere on the Internet. Come see what all the buzz is about!

**This review first published on June 30, 2008.
Check out the Manafest music videos at Godtube.com.