Margaret Becker Collaborates on "Faithfully Yours" Project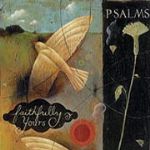 Artist:  Margaret Becker & David M. Edwards
Title:  "Faithfully Yours"
Label:  Here to Him
"Faithfully Yours: Psalms" is exactly what it was intended to be – a record for congregational worship. Close your eyes, and that's what it sounds like, an exceptionally well-produced worship service. For this latest project Margaret Becker chorally collaborates and co-writes with worship leader David M. Edwards, taking words directly from 11 psalms in the new Broadman Holman Christian Standard Bible translation.  It's original material, but it won't jostle the pews.
Expect an earful of vertical-centered lyrics with tasteful, well-constructed arrangements that are suitably contemporary, if not groundbreaking. The vocals have a fresh poignancy while staying on a mellow continuum as Becker and Edwards alternate singing on every other song. The tracks are consistent, however, with a low-key inspirational quality constructed by piano, soft percussion and light guitars. It's the words that will stay in your head, and when you're humming them later, you won't be embarrassed.
The obvious highlight is "Create in Me," based on Psalm 51, on which Margaret shines. A tender piano melody and discreet background vocals wrap her earnest delivery of lines such as "A sacrifice, pleasing to God is a broken spirit/ You'll not despise a humble heart/ You will hold and heal it/ Renew, restore, remember me, my Lord." Like all the songs, this one is accompanied by PDF lead sheets for easy implementing into church services, but it seems this one could be destined for mega-church fame.

© 2005 CCM Magazine.  All rights reserved.  Used with permission.  Click here to subscribe.