Mary Mary Gets Funky and Fun on Latest Disc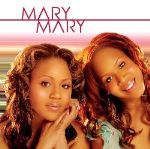 Artist:  Mary Mary
Title:  "Mary Mary"
Label:  Columbia/Integrity

Bottom line:  There's nothing about this album that won't make you bob your head.
It doesn't matter if you can't dance — the opening track "Believer" inspires an inimitable shimmy/shake that's sure to pack dance floors. It's the song we hoped for that rivals Mary Mary's 2000 R&B smash hit "Shackles (Praise You)," replete with hooks that you can't get out of your head, beats that pop and a strong dose of lyrical wisdom, carried by sisters Erica and Tina Campbell's signature harmonies.
But don't get comfortable just yet:  "Biggest, Greatest Thing" follows with a big-band quality, sporting an audacious trumpet and a fox trot-worthy tempo that wouldn't sound amiss on a sitcom theme song.
On its heels is the hip-hop groove "Heaven," the first single off the record, which unites bouncy urban rhythms and smooth melodies in the second most infectious track on the album.
And if that isn't enough, the headstrong, choir-backed vocals of "The Real Party" demand "Make some noise … move your feet and your hands/ while you've got a chance/ you wanna get up and give God all you can." You don't feel like they're really giving you an option here.
The girls always belt it — a refreshing burst of energy for anyone who's fallen asleep on the iPod lately. And don't miss "Yesterday," a bluesy treatment of heartache in a distinct urban niche with lots of wailing, as well as "And I," bringing the non-stop R&B flava with straightforward praise and glory to God. "Speak to Me" is a sweet, slow ballad that concludes the album with a goose bump-inducing choir and piano combination.
Compared to "Thankful" and "Incredible," this album sounds even more confident and upbeat, if that's possible. Producer Warryn Campbell (Yolanda Adams, Queen Latifah) is pushing the duo to try new things, a la channeling that inner Ella Fitzgerald, and the result is funky and fun.

© 2005 CCM Magazine.  All rights reserved.  Used with permission.  Click here to subscribe.