Matthew West Has Won on Creative Sophomore Effort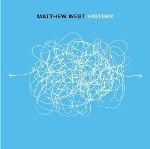 Artist: Matthew West
Title: "History"
Label: Universal South

Matthew West might sling an acoustic guitar and use singer/songwriter folk as his guide, but this ChiTown native is clearly determined to bend the pop mold with his new disc, "History."
As a perfect example, the title track kick-starts the album with stripped-down guitars and bare vocals, that, without rushing, lead into a grand production filled with strings, hard-hitting drums and a beefy chorus. Likewise, "Only Grace" puts the power back into balladry with fiercely passionate vocals and rich piano play. The album also features "The Day Before You," which West wrote for his wife, Emily, a song that Rascal Flatts recorded for their double-platinum "Feels Like Today."
History's lead single, "Next Thing You Know," is arguably the one questionable moment on the disc as West breaks into rap style verses. Though massive radio play will probably render any criticism moot, the song indulges a little too much in quirky pop gimmicks.
West, whose rookie release "Happy" came out in 2003, was the first Christian artist signed to Universal South, the new label founded by legendary country music execs Tim DuBois and Tony Brown. Happy actually made "history" at radio when its song "More" became the first-ever debut single to spend nine consecutive weeks in the Christian AC top spot. The track, nominated for a GMA trophy, won the 2005 Song of the Year category at the ASCAP Christian Music Awards.
Clearly, the success of his debut gave the singer newfound creative confidence. West co-produced "History" (with Kenny Greenberg and Jason Houser) and offers a vision that's clearly set on raising pop music to a higher level. With his new album, he does just that by leaving no idea untested. Indeed, "History" lets pop music lovers rejoice and turn their ears toward the wild, wild West.

© 2005 CCM Magazine. All rights reserved. Used with permission. Click here to subscribe.

Be sure to check out great Matthew West music videos at Godtube.com!