Matthew West Sings Your Stories on Fourth Set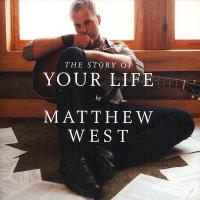 Artist: Matthew West
Title: The Story of Your Life
Label: Sparrow Records
Profiles of 33-year-old musician Matthew West tend to lead with a mention of his dynamic singular achievements: writing songs that are recorded by everyone from Billy Ray Cyrus and Rascal Flatts to Amy Grant and American Idol's Mandisa, or personally charting the year's most played Christian radio hit three times already ("More," "You Are Everything," "The Motions").

With that out of the way let's change the conversation. Why? Because West has just released an entire album that is altogether worth some lasting attention: The Story of Your Life.
The premise for The Story of Your Life has been well publicized. Instead of dwelling on himself for this fourth major label set, Matthew asked fans to submit letters about whatever was on their hearts, and he would put it to music. With a barrage of entries, like poet Maya Angelou who checks into a hotel room with legal notepads and blank walls when she has serious work to do, West retreated to a cabin with his guitar and a whiteboard to begin making sense of it all. What has emerged is both poetic and popular, exceptionally crafted songs with deeply personal roots but universal appeal.
Sounding a bit like Steven Curtis Chapman fronting Switchfoot, the title track is based on the account of a foster child who reached adulthood without ever landing in a family. Instead of bitterness, she now helps others in the same situation. "My Own Little World," which tugs at the heart like a Five for Fighting single, is an amalgam of several stories and tackles important issues of selfishness and social justice. "One Less" is a joyful ode to adoption with a classic hook; as the gospel choir kicks in toward the end, West is singing like a shiny happy Ray LaMontagne.
Other topics include a kid's struggle with self esteem ("To Me" featuring Leigh Nash from Sixpence None the Richer), breaking generational curses ("Family Tree"), divorce ("Two Houses"), sudden tragedy ("Reason for the World"), and sexual abuse ("Broken Girl"). That seems really heavy, and the phrase "broken heart" is used a lot, but West and those who inspired him always arrive at the hope that a living faith in God provides. And who couldn't relate? If we are all in need of the same grace and salvation, then their story is our story—"and it's a story worth telling" sings this increasingly impressive recording artist.


**This review first published on October 15, 2010.