McClarney's Collection Focuses on His Defender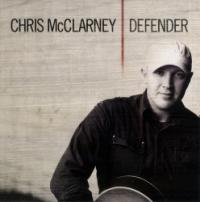 Artist: Chris McClarney
Title: Defender
Label: Kingsway
When first listening to Chris McClarney's Defender, I have to admit that I was a bit skeptical. The seasoned worship leader opens his first, full-length album with powerful bluesy vocals and the popular tune, "Your Love Never Fails." Albeit a great song, I questioned the wisdom in jumpstarting a fresh project with the cover of a Jesus Culture number. Then I read more about him as I continued to listen—and that's when it hit me. He wrote the song.
The 30-year-old, Nashville based artist has 15 years of worship leading under his belt and GospelMusicChannel.com recently named him one of the "top ten artists to watch in 2010." His song "Your Love Never Fails" was recorded by Jesus Culture and taken all over the world, soon landing in the top 100 on the iTunes Christian chart. So, why does he remain unfamiliar to most?
While McClarney candidly admits that there is a part of him that "wants to be a rockstar," he quickly follows by saying that he would "never do anything to push that" and that he is "nothing special." Despite successes and great potential for future accomplishments, he states that there is nothing more important to him than, "following God and being a husband and a dad." It's a humble outlook that's uncommon and refreshing in a world where people compete for recognition.
A soulful collection of 15 songs, Defender rings true to its name. The album sets the mood for listeners with a pervasive sense of longing to be in God's presence, trusting that his promises are true, and painting a picture of who God really is. Each song is heavily weighted in Scripture and woven with real life experience: an equation for authenticity that may leave listeners hungry to hear more of the same. Throughout this project, McClarney sings with the conviction and fervor of the psalmist—showing a beautifully stubborn persistence to "rest in the knowledge that you care" as he sings in the title track.
In McClarney's words, his music is intentioned to give listeners "eyes to see the deeper lessons in our hard-knock lives; a fundamental belief in the goodness and faithfulness of God; and the words to bring those realities together in song." With mostly original work, a cover of Matt Redman's "God of Our Yesterdays" and a couple of reworked hymns, Chris McClarney brings a worshipful and heartfelt collection of music that breathes life. If you like "Your Love Never Fails," you may want to check this out.


**This review first published on August 20, 2010.