McLaughlin's Songwriting Shines in Indiana
Lindsay Williams

CCM Magazine

2007

27 Jul

COMMENTS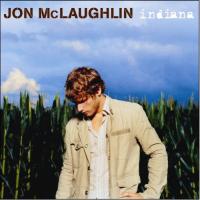 Artist: Jon McLaughlin
Title: Indiana
Label: Island/EMI CMG
Jon McLaughlin's debut displays his astounding skill as a pianist, only to be matched by his sincere songwriting. While many of Indiana's songs have spiritual nuances, the album contains mainly thoughtful tunes about life and love, showcasing McLaughlin's gift for penning beautiful word pictures married with gorgeous, accessible melodies and smooth vocals.
Take first single "Beautiful Disaster," which tells the story of young girls everywhere. He profoundly sings, "She's just the way she is, but no one's told her that's OK."
Indiana opens with "Industry," a bold statement that reveals his humility, finding McLaughlin pleading for the "industry" to be taken from him if he finds himself in over his head. With a flair for beautiful phrasing, "Human" is another obvious gem: "After all we're only human/Always fighting what we're feeling/Hurt instead of healing . . . /Is there any other reason why we stay instead of leaving." The music world needs more of this transparent brilliance.
"People" is a remarkable opus to humanity with stunningly intricate instrumentation, while the title track is simple and gracefully picturesque. In contrast, "Anthem for American Teenagers" soars with Switchfoot-esque grandeur. With immense production muscle behind each song, it comes as no surprise that the album was produced by Jamie Houston (Santana, Jessica Simpson) and Greg Wells (Natasha Bedingfield, Rufus Wainwright).
While the general market version of this CD contains the song "Amelia's Missing" which features mild profanity in its chorus (Yes, a word used repeatedly in the Bible), it is replaced on the Christian market version with what becomes the most spiritually overt song on the album, "Proud Father."
No matter which Indiana you buy, Jon McLaughlin's bow is a must for your iPod—one of the strongest debuts this year.

© 2007 CCM Magazine. All rights reserved. Used with permission. Click here to try a free issue.