MercyMe Celebrates with Style in Welcome
Ed Cardinal

Crosswalk.com Contributing Writer

2014

14 Apr

COMMENTS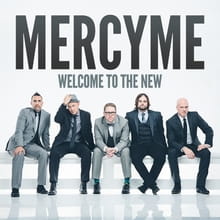 Artist: MercyMe
Title: Welcome to the New
Label: Fair Trade

Believe the buzz. MercyMe's eight studio album, Welcome to the New, really may be the multi-platinum band's best effort to date, a jovial and wise ten-song stylistic scattershot of positivity fueled by singer Bart Millard's recent re-understanding of God's grace: "I cannot do enough great things to make Christ love me more than He already does," he said. "All the work was truly done on the cross and I cannot mess it up!"

The freedom of that renewed realization shines through on every New selection. Sounding even happier than Pharrell's "Happy," the opening title track is contagiously bouncy, brassy pop with a bold salvation message: You've got the proof of purchase. You were purchased, 'cause you're worth it. A quick comedic segue ushers in "Gotta Let It Go," a fuzzed out retro rocker a la Jimi Hendrix's "Fire" where every member is playing at full tilt, reminding us that life isn't about getting stuck in a negative place.

Dance-inspiring single "Shake" uninhibitedly collects influences ranging from 1950s Little Richard and 1960s Motown to old-time jubilee gospel: Great God Almighty, He done changed me! Even rooted in a dirty blues riff, "New Lease on Life" sees a clean slate of grace: At my worst I'm still adored. The driving rock of "Burn Baby Burn" gives a playful twist to being the light of the world—and the melody and wordplay are just begging for a "Disco Inferno" mash-up in concert. There's depth and fun at every turn.

All that high energy will define Welcome to the New for awhile, but time will be especially good to the slower cuts that descend from MercyMe classics like "I Can Only Imagine" and "Word of God Speak." With a credible blue-eyed soul delivery, "Wishful Thinking" perfectly states how adults often feel in their faith: Lord, is it possible to get this far and just now understand who You are? Echoing ballad "Finish What He Started" may contain some minor lyrical clichés, but it's still a major hit waiting to happen.

Finally, the acoustic "Dear Younger Me" escapes easy comparisons to Brad Paisley's "Letter to Me" by taking a solid spiritual note-writing turn back to the eureka moment where Welcome to the New began: Dear younger me, it's not your fault. You were never meant to carry this beyond the cross.

MercyMe achieves a celebrating, satisfying listen from start to finish. Welcome it to your collection.
*Published 4/14/2014