MercyMe's Lovewell Not Quite a Concept Album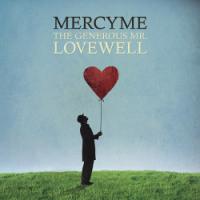 Artist: MercyMe
Title: The Generous Mr. Lovewell
Label: INO Records

To call MercyMe's latest project a concept album would be an overstatement, but there's certainly a unified thread that runs throughout the 11-track collection. Consider Mr. Lovewell to be the disc's loosely wound main character, which is basically a fictional fella the group created to remind listeners to spread compassion, love and generosity to anyone that crosses their path.

The title track best embodies these ideas, telling the tale of the joyful character over a PFR-styled pop premise and suggesting his idealistic ways of helping others become a realistic way of life. Those concepts also come leaping out of the lead track "This Life," which calls believers to shake off the chains of their comfort zones over Bart Millard's welcoming vocals and the band's driving resolve. Of course, there's the token ballad or two, including "Beautiful" and "Won't You Be My Love," both of which are sure to further MercyMe's radio domination, while providing a soothing and tender touch to the plugged in periods.

For those wondering where it fits into MercyMe's overall catalogue, the Brown Bannister and Dan Muckala produced album isn't so much a musically adventurous leap forward, but rather a consistent continuation of the group's ability to blend uplifting pop and rock with the occasional adult contemporary ballad for which the players amassed worldwide fame.

However, even with all the group's past triumphs, there's no evidence of the guys resting on their laurels or typecasting any of their material (most notably, the foot stomping "Move") making this worth recommending for longtime listeners and newcomers alike.




© 2010 CCMmagazine.com. All rights reserved. Used with permission.

**This review first published on May 20, 2010.

Check out MercyMe music videos at Godtube.com.