Michael W. Smith: Ready for His Close-up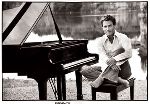 He shares a middle initial with the leader of the free world — and, in fact, has been dubbed "Dubya" by the original Dubya himself — via a friendship that began more than 15 years ago when the first President Bush occupied the White House.
That initial "surreal" meeting happened in 1989 when Michael W. Smith was invited to play for "Christmas in Washington." Soon after the concert, a Secret Service agent approached Michael with the request to come to the White House by invitation of President Bush. He says he still cringes at the memory of asking the President if the piano was in tune when invited to the East Room to play Christmas carols for the first family. ("I thought, 'You idiot, what are you doing?' I was trying to be funny.")
But Michael's friendships with presidents didn't end there. He says he was introduced to George W. before he was even the governor of Texas. In fact, the two met when they played a tennis match against each other — Michael and a relative against Bush senior and junior. "We killed them. And I was like, 'This is it. This is the end of the Bush-Smith relationship.'"
Not hardly. Michael says he and the current president remain friends and stay in touch on a regular basis. So, if you're thinking his relationships hit the top of the figurative food chain (which they do), then just imagine his career doing the same thing over the past 20 years, soaring steadily skyward even amidst the myriad of twists and turns he welcomed on his path.
In between winning countless awards and accolades as a musician and, in fact, helping to create the success of what is known as the Christian music genre, Michael has also taken on everything from the expected (marriage and fatherhood) to the challenging (building and pastoring a new church community, starting his own record label) to the surprising (starring in a film).
This year alone he has performed for millions with his patriotic "There She Stands" before the President's speech at the Republican National Convention, jammed with U2 during a studio visit in Ireland and is currently developing his acting chops by accepting the lead role in the Steve Taylor-directed and produced indie film, "The Second Chance" (set to hit theaters next fall). And somewhere in between all that, he finished the 18th album of his career, "Healing Rain," which released Oct. 26.
This latest effort is an album that follows up two immensely popular forays into worship music with 2001's "Worship" and the 2002 follow-up, "Worship Again." The five-year "break" from making a pop album (after 1999's "This Is Your Time") wasn't so much a break as it was a chance for Michael to explore his other musical dreams. "Freedom," the instrumental album and the two worship projects allowed Michael to stray from formula — but all along the way he was continuing to write songs for the eventual, "next" pop album. And along the way, he picked up another Smith, Martin Smith, that is, of the U.K. band Delirious, as a writing partner.
He says of the pairing, "I'm a big fan of Delirious and a really big fan of his writing [which includes the modern worship classic "I Could Sing of Your Love Forever"]. I thought of Martin because I thought I would love to be able to do something that has a sort of vertical thing, but it's progressive and not corporate — and that's what Delirious does." That duo did end up producing magic. The first lightning strike? The song, written in Martin's English homeland, that became the new album's title, "Healing Rain" — a cut that, before its release, had already birthed a same-titled book, DVD, seminar and a whole lot of buzz.
But that meeting wasn't the only significant one of that trip overseas. A side jaunt to Ireland produced an impromptu invitation from U2's Bono to drop by for dinner "with the boys." The dinner extended into an excursion over to the "secret" studio where the band was recording with famed producer Steve Lillywhite, who helmed U2's first three albums and had co-production credits on "Achtung Baby" and "All That You Can't Leave Behind." Michael found himself in yet another surreal musical heaven and was one of the first people privy to the title of the long-awaited new U2 album, set to release Nov. 23. Sitting in the Dublin studio with the larger-than-life rock stars, Bono played some snippets of music and then turned to his American friend and said he thought the title of the new album might be "How to Dismantle an Atomic Bomb." "Do you know how we do that?" the Irishman asked knowingly. "No," Michael offered. "Love, love, love," Michael mimics Bono's poetic answer, with his own attempt at an Irish brogue.
That exchange became the inspiration for Michael's song "I Am Loved" (together with a viewing of "The Passion of the Christ") on his new album, which Smitty penned with his Rocketown label-find artist and songwriter Taylor Sorenson. The two wrote the song in 15 minutes. ("My favorite songs are always the ones that happen that fast," Smith says.)
But back in the Dublin studio, the surprises kept on coming as Michael was invited to sit in on a tracking session with U2 and lend his considerable talents on the B3 organ. While he's not sure his part will actually make it onto the final album, at this point he doesn't really care. Needless to say, it would be pretty hard to beat that kind of a memory. The song he jammed on, fittingly, honors another Nashvillian — Johnny Cash. Entitled "North Star," the song celebrates The Man in Black's unwavering, immovable faith. ("Just like the North Star," Michael beams.)
Johnny Cash is just one in a slew of Michael's legendary acquaintances and friends — presidents, governors, rock stars, movie stars — during his 20 years of music-making. But when asked who he'd still most love to meet face-to-face, Michael very decidedly says, "Nelson Mandela." To be sure, it is likely his friendship with the crusading rock star (not to mention the President) that planted that seed — Bono's ties with Africa and his desire to enlist the world in fighting the many plights that have beset the continent span two decades. But Michael's no slouch when it comes to his own desire to save the world.  Through the work of the Bono-founded DATA, Christian music's grassroots movement AWAKE and Michael's role as a Compassion International representative, he has been eager and faithful to lend his hand, voice and influence to help make a difference.
"I want to go to Africa so bad," he laments. "We have to do something." For his part, Michael included a plea for Africa on "Healing Rain" with the song "We Can't Wait Any Longer" but is quick to point out it's not even close to enough. "I'm speaking and trying to wake America up, but it's still not enough for me. I need to go to Africa. I don't need to just pour my money into it. It's easy to give money. Just write a check all day and feel good. That's what a lot of people do. But we've got to get our hands dirty."
Considering the influence of his other friends in high places, one wonders if Mr. Smith really might want to go to Washington himself to make some of those kinds of changes. He has considered his own political aspirations. "I just honestly don't know if I could do it," he admits. "There is a part of me that would really want to do it because I think I could probably make a pretty good politician. I just don't know if I could play that game; and to be in politics, to a certain degree, you've got to play the game." But true to form, Michael's not ruling anything out. "It would have to be a very loud call from God saying, 'I want you to run for senator or governor,'" he laughs. "You know I don't have any experience." He then adds with a grin, "but neither did Arnold."
That Arnold, of course, is the actor-turned-governor, whom Michael still notes was one of his most notable "meetings." And that photo op get-together happened long before the Terminator turned to politics and long before Michael ever realized he'd be joining the Actor's Guild. Today, Michael is just days away from beginning shooting on an honest-to-goodness motion picture. And he's the lead actor! He put in his own requisite and regrettable wild days in his youth and now gets to somewhat revisit that experience with his role as a newly reformed and reclaimed inner-city pastor.
Through the direction of alternative Christian music icon-turned-movie director Steve Taylor and the guidance of a widely respected acting coach, Michael's reveling in this "whole new world." He says he's amazed that acting can actually give you the ability to make someone cry, oddly forgetting while making this admission that his music has been doing that for years. He's discovering the "mind-boggling" transformation that lets an actor pull off being someone else and says he's blown away by the script he gets to play from — "It's real life, the real deal," he says, "It's not a church film. But it is such a redemptive, spiritual story."
And while he plays a man of God on his way to redemption on film, in real life, Smitty's already in a pastoral role in the lives of his church family. He's not a pastor in the traditional sense of the word; but in his own faith community, he believes his role is to help others find out what their gift is. He's surprised, however, at the number of people who still struggle.
"So many people are so depressed," he says with amazement. "For some people life is so hard that they think they can barely just get through one day. Then they mope through the next day. They had a dad who left … they were abused … they can't forget. It's so hard for me sometimes because I've never had that."
The blessing of "never having that," however, is not lost on him. When Michael's mother was young, she and two sisters and a brother were abandoned by their mother, who left them, movie script-like, on a doorstep. According to Michael, she could have "moaned and groaned and been bitter about it." Instead, she vowed that would never happen to her children. And that legacy has carried to the next generation. Today Michael continues the passion for family with his own wife and five children, growing happily, lovingly in the heart of his Tennessee home.
His lifelong goal of making sure family is always "number one" ("Loving your wife and kids well — that's the key," he says.) seems genuinely met, but Michael is, by no means, ready to "call it a day." Ironically, he's embarrassed to discover that the one thing he can't do is name the one thing he can't do. This man knows exactly what he wants and exactly what he has to do to go get it.
For instance, for years he's wanted to cover Simon and Garfunkel's classic "Bridge Over Troubled Water" and finally got the chance on this latest album. Musically, Smitty's version pays homage to the original while adding a soaring orchestration befitting its message. Lyrically, it isn't hard to see why Michael has loved the song for so long. It's a virtual mission statement for his life. ("I will dry your tears," "I will comfort you," "I will lay me down," "I will ease your mind.") He has been and continues to be all these things to all the people who bump into and run through his life.
He shares a dream he had two nights ago, puzzled by its meaning and a bit overwhelmed with its vividness. "In the dream," he confesses in a hushed tone, "a very prominent politician died." (Not the one you're thinking!) "I was invited to sing to and comfort the grieving family. The things I said to the family, it was so God-breathed," he marvels, "I just kept thinking, 'I can't do this; I'm not qualified.' And it was wild — it was like I was the man for the hour, for the time; and it made a huge impact. And I ended up becoming a very prominent person in the political realm, someone who was a comforter, encourager, pastor." He seems a little shaken by what this could possibly mean, but any outsider looking in can see that he's already been what the dream seems to foretell. (The scene is eerily reminiscent of Michael's role throughout the aftermath of the tragic Columbine shootings when he was invited to perform at the memorial service and then met with and offered comfort to the grieving families.) Still, as his dream seems to say and as Michael continues to follow "whatever the calling is that God has for him," this father, friend, artist, writer, pastor, actor, crusader, philanthropist and seeker is open to whatever other role life might bring his way.
He says that, in the end all that really counts is this: "Like in the song 'All I Want' — the Martin Smith lyric, 'To only be a friend of God is all that I desire.' And I just want to be faithful. That's all I want. To me, that's the beginning and end of story. Period. No more discussion. That just says it all."
Michael by the Numbers
47 years old
18 albums
28 No. 1 songs
40 Dove Awards
11 Grammy nominations
03 Grammy awards
01 People's 50 Most 
Beautiful List appearance
23 years of marriage
05 children
12 White House/Camp David visits
07 CCM covers
4,527ish times he's been asked what the "W" stands for (Answer: Whitaker)
Inside the Actor's Mind
We thought it might be fun to give Michael W. Smith a sit-down in the "Actor's Studio" chair and hit him with the famous James Lipton questionnaire that has been given to everyone from Tom Hanks and Julia Roberts to Robert DeNiro and Barbra Streisand. (And just to liven things up a bit, we threw in a few of our own questions, too, at the end!)
What is your favorite word?
Wow … love.
What is your least favorite word?
Pus.
What turns you on creatively, spiritually or emotionally?
Being outside. Actually for all three, I'd say being outside.
What turns you off?
Too much TV. And grumbling.
(On the official "Inside The Actor's Studio" list, the next question is "What is your favorite curse word?" We decided there were some things you just didn't want to know and let Mr. Smith graciously decline answering.)
What sound or noise do you love?
I love the ocean.
And what sound or noise do you hate?
Traffic!
What profession, other than your own, would you like to attempt?
Probably the acting.
What profession would you not like to do?
A janitor.
What would you like to hear God say when you arrive at the "pearly gates?"
Well done, my good and faithful servant.
And now for the CCM add-ons!…
What is your favorite "place in this world?"
Ireland.
What do you consider the best song you've written?
"All Is Well"
And how about the worst song you've written?
"I Am Up." It's embarrassing. My manager still gives me a hard time about it. He'll holler it out as a request during acoustic performances.
What's the song you wish you'd written?
"Bridge Over Troubled Water."
What was your favorite TV show while you were growing up?
"Lost In Space." And can I have two? I love "Get Smart."
Now that you're an actor, is there any TV show you dream of being on?
I would love to attempt "Whose Line Is It Anyway" — it's my favorite show on TV. They are great. I laugh at that more than any other show.
Do you have a hidden talent?
I'm a good horseshoe player. I've got a pit in my backyard.
What's the worst job you ever had?
Putting up chain link fences. I just got out of school, and I wanted to be at the piano writing songs; but I was out in the hot sun, slaving away!
If you were opening your own store, what would you sell?
Men's clothing. I'd want a store where everything was amazing … all the way from high fashion down to buying shoes for twenty bucks.

© 2004 CCM Magazine.  All rights reserved.  Used with permission.  Click here to subscribe.