Michelle Bonilla Peppers Debut With "Phenomenal" Flavor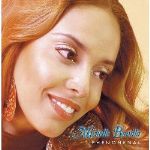 Artist:  Michelle Bonilla
Title:  "Phenomenal"
Label:  Cross Movement Records
It's hard to describe God. Previous efforts have left us with descriptions such as "awesome," "powerful" and "magnificent," but we must realize that we are falling terribly short of the fullness of His glory.

As appropriate as those adjectives may be, it's clear that our experience with and understanding of God is limited and our words simply don't adequately express His attributes fully.
Michelle Bonilla faced this same dilemma as she looked for a title to her debut project set to release on Cross Movement Records. Choosing "Phenomenal," Bonilla expressed her thoughts regarding the nature of God as experienced in life. Though God's not a visible, physical being with which we can interact, it's an undeniable relationship that leaves us changed and full of awe. The album discusses many themes surrounding life experiences and how they relate to God. The opening track, "All to You" talks about how we need to surrender our lives to God, while "Little Girl" encourages us to look beyond the things of this world and embrace the love and eternal security of trusting in God. Other tracks, such as the title track, "Everybody Praise Him," and the well-traveled "El-Shaddai" offer more direct praise, focusing on God's nature and faithfulness.
From the opening notes of the album, listeners may be double-checking their players to make sure they've not accidentally popped in a Stacie Orrico album. Certainly, Michelle Bonilla is quite similar vocally and stylistically to Orrico, but fear not, she peppers the songs with her own flavor throughout the album. Tracks like "Cinti (Without Out)," "Paraiso (Paradise)," and "Cambiame Hoy (Change Me Today)" find Bonilla alternating between Spanish and English vocals, giving the album a distinct feel. The dominant sound found here however is the R&B laced pop music of Stacie Orrico and others. Tracks such as "Everybody Praise Him" and "Don't Stop" provide a nice dance soundtrack while slower tracks such as "Daddy's Song" and "Cold World" keep listeners tuned in with strong vocals and melodies.
Overall, "Phenomenal" seems to be a rather strong debut for Michelle Bonilla. Given the chance, she could easily take the Christian pop market by storm with a fair amount of talent and some solid production. Certainly one to check out if you're looking for the next pop flavor of the month.


© 2006 CMCentral.com.  All rights reserved.  Used with permission. 

Visit CMCentral.com now and join the single largest online community of Christian music fans on the internet.  CMCentral features  daily music news, exclusive interviews, album reviews, weekly devotions and feature articles written by some of your favorite Christian artists, and much more.  CMCentral is also the home of the most popular Forum for Christian music fans that you'll find anywhere on the Internet.  Come see what all the buzz is about!