Michelle Tumes' Self-Titled Disc Worth the Wait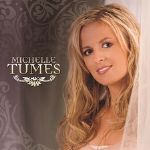 Artist:  Michelle Tumes
Title:  "Michelle Tumes"
Label:  Lavantar Records
Jesus once said that if people didn't praise God, the very rocks of the earth would cry out to proclaim His glory.
He may have meant that literally, perhaps, but in a sense, nature already cries out in proclamation of God's glory and majesty. It's been said that sometimes the greatest testimony to the existence of God as the Creator is the very world around us. Everything is so intricately put together and created, that nature itself screams that God must indeed exist. Likewise, for Christians, there is much to be learned about God simply by observing the world around us - a living picture of the nature of God.
Returning after a brief musical hiatus - aside from playing a part in the "Lost in Wonder" project last year it's been five years – Michelle Tumes offers her fourth album, a self titled project released independently. With lyrics that focus on things and occurrences you might find in nature, Tumes shows an affection for contemplation and meditating on scripture and the world around her.
Opening with "Introit," Tumes credits God as being the source of all the comforts of life that can be found in nature while other songs, such as "Let it Rain" and "Fair Weather" use weather as a metaphor to describe the challenges of life and pursuing a relationship with Christ. "Domine (Lord God)" is a challenging song that serves as a cry out to God for strength in the midst of trials.
Perhaps the most noticeable aspect of this album is the lack of the pop/techno influence of the previous album ( "Dream" ). Having shed her label and, presumably, the pressure to sound a certain way, Tumes has returned to the roots of her highly acclaimed debut with soaring ethereal vocals and melodies that match the overall tone of the album. The album includes a hint of Celtic influence to match the meditative soundtrack and lyrics that encourage depth of thought and a new perspective on life.
Generally speaking, a self-titled effort is supposed to introduce or re-introduce an artist to the listening audience. For Michele Tumes, this project proves to be an enjoyable return to the artistic expression to which fans of her early work could easily relate. It's a rather soothing experience and one that's worth checking out.


© 2006 CMCentral.com.  All rights reserved.  Used with permission. 

Visit CMCentral.com now and join the single largest online community of Christian music fans on the internet.  CMCentral features  daily music news, exclusive interviews, album reviews, weekly devotions and feature articles written by some of your favorite Christian artists, and much more.  CMCentral is also the home of the most popular Forum for Christian music fans that you'll find anywhere on the Internet.  Come see what all the buzz is about!