Militancy Concept Works for Staple on Follow-up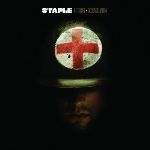 Artist:  Staple
Title:  "Of Truth & Reconciliation"
Label:  Flicker
The Apostle Paul spoke of "spiritual warfare" and "the armor of God," and Christian rockers have long been drawn to that image with stubborn fascination. Petra sang "This Means War"; and the harder the music, the more likely you are to hear that sentiment repeated. It's just not as easy to muster that same intensity around Jesus' words: "Blessed are the peacemakers."
Militancy works for Staple, a hard-hitting quartet that holds no quarter on this concept record linking 10 bold tracks defining the act of faith as one of defiance and opposition. Raw and aggressive, vocalist Darin Keim matches the intensity of guitarist Brian Miller and the propulsive drive of rhythm section Grant Beachy (drums) and Israel Beachy (bass).
Staple keeps the rock-beats-per-minute quotient at a punishingly high rate, noteworthy on the opener "Do or Die," yet still keeps the songs melodic and relatively accessible as in "Honor and Integrity."  Still, the quieter tunefulness of "Black, Blue and Gold" is a welcome contrast to the assault of earlier tracks.
Confrontational in tone, Staple emphasizes the switchblades of truth rather than lowering one's weapon in a move toward reconciliation. But maybe the band's saving that for the next record.
This thoughtful, even reflective approach to the hard rock enterprise suggests that Staple has a long future in front of it. One hopes it might put as much of its energy and creativity into Jesus' call to "love your enemies" as it does into this album's focus on apocalyptic battles.

© 2005 CCM Magazine.  All rights reserved.  Used with permission.   Click here to subscribe.