Missing Pages Includes Unreleased Tracks, Remixes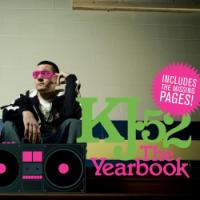 Artist: KJ-52
Title: The Yearbook: Missing Pages
Label: BEC Recordings
A generally unnecessary in-between album ...
There's no overlooking KJ-52's ability to hit the target on his conceptually themed 2007 CD The Yearbook, which not only offered a series of self-esteem affirmations, but impressive rhymes over the emcees' rap, hip-hop and occasional rock hybrid.
Outside of being a fan favorite on the road, the project also expanded the Christian star's listener base, thanks in part to song placement on CBS' Cold Case, plus collaborations with members of Disciple, Emery and Group 1 Crew (to name a few).
In attempts to continue that craze, this sequel of sorts provides several unreleased tracks from those sessions, plus a handful of remixes (following a rap market trend that often serves as a stalling tactic in between proper studio CDs, executed by everyone from Vanilla Ice to Kanye West). Though the songs are still in step with KJ-52's current format and are generally quite accessible, the satirical duo "Stuck in the '80s" and "Starbucks Takes All My Money" seem like mere leftovers with predictable premises.
Those hoping for something stellar in the remixes are likely to be disappointed as well with "You Can Still Come Back" and "Pump That" coming across particularly stale compared to the more intriguing original versions. The CD's saving grace is the previously unheard duet with Liquid, "I Can Never Forget You," a neo-soul reflection about rising above the ghetto's circumstances. While it's not enough to make this project one of KJ-52's most meaningful moments, it's a mildly entertaining epilogue that will hopefully prompt the performer to come out with an official album that starts from scratch sooner rather than later.



© 2008 CMCentral.com. All rights reserved. Used with permission.




Visit CMCentral.com now and join the single largest online community of Christian music fans on the internet. CMCentral features daily music news, exclusive interviews, album reviews, weekly devotions and feature articles written by some of your favorite Christian artists, and much more. CMCentral is also the home of the most popular Forum for Christian music fans that you'll find anywhere on the Internet. Come see what all the buzz is about!

**This review first published on November 10, 2008.
Watch the latest KJ-52 music videos at Godtube.com!