Mission Comes First on Murphy's Everything Changes
Kevan Breitinger

CMCentral.com

2008

16 May

COMMENTS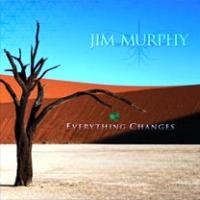 Artist: Jim Murphy
Title: Everything Changes
Label: Mission House Music
Mission House Music is the aptly-titled label behind Jim Murphy's sophomore project; both the label and the artist seem to center their energies on the mission first, with an openly Christ-first focus to their projects. Which is not to say the music doesn't matter. Adult Contemporary lovers will greatly enjoy Murphy's pop songs and inspirational bent.

Everything Changes starts strongly with Murphy's warm rendition of the great Twila Paris song, "How Beautiful." The orchestration is thick, the vocal is passionately delivered, and the bridge soars to the heights of expression.
There's pop a-plenty on the project, from the soulful "Break Free," to the twangy, bouncy "You Are God," to "My God Is with Me," notable for its electric guitar solo. Other tracks take a bigger, more dramatic turn: the string-heavy title track, an appreciative affirmation of God's saving sacrifice, and "Taken Back," with its wailing guitar nuances and percolating rhythms.
Murphy closes with one of the more introspective tracks: under the quietly pulsating instrumentation of ballad "Faith Hope and Love" he explores the qualities of each trait. Everything Changes is a feel-good project, but it's a cheer that fills your spirit as much as your soul.
© 2008 CMCentral.com. All rights reserved. Used with permission.




Visit CMCentral.com now and join the single largest online community of Christian music fans on the internet. CMCentral features daily music news, exclusive interviews, album reviews, weekly devotions and feature articles written by some of your favorite Christian artists, and much more. CMCentral is also the home of the most popular Forum for Christian music fans that you'll find anywhere on the Internet. Come see what all the buzz is about!

**This review first published on May 16, 2008.