Mix of Styles a Plus on Connersvine Debut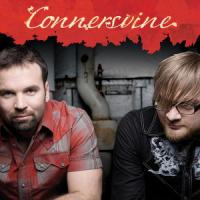 Artist: Connersvine
Title: Connersvine
Label: INO Records
It probably reveals something bad about me that my expectations for the Connersvine debut were not too high. It's the football thing. The Connersvine duo is made up of Chris Wilson, the self-declared artsy type, and Hunter Smith, a pro football player (and recent Super Bowl winner).
My secret snobby side kicked in (I'm not much of a sports fan), and I must publicly repent. Connersvine busted up my misconceptions in a big way with this creative, delightful debut, and I happily take a time-out in the Foolish Reviewer's Corner.
Lush guitars fill the atmospheric opener "Glory Be," a worship track thick with nuance and passion. I wish I knew what note-bending instrument opens "Lay Down," but mixed with the lively slide guitars, it gives the country-flaired track a real kick. The only word for first single "Live for You" is big: big guitars, big vocals, and big passion. The track splashes over with sound, adding to the power of its message of dedication.
Displaying a pleasant diversity, "Hungerlove" is pure bouncy pop, full of percolating rhythms, while the dramatic "Hero," written for Smith's son Josiah, is a gentler pop track, given added punch with its emotionally-charged chorus. Those who lean toward country will enjoy "Overflow," its lumbering 12-string providing solid support for the warm vocals. Ben Shive and Pete Kipley produced, and their expertise shows clearly through the beautifully arranged "Sacred Mystery," a country-pop ballad.
The heartfelt vocals and glimmering guitars of "Hosanna" reveal their history as worship-leaders. Connersvine closes with quiet ballad "A Time to Die," its lovingly expressed passion showing well their strength as worshippers. Not every track is iPod worthy, and the thick guitars can wear after twelve tracks, but the mix of styles helps hold your attention. All in all, not a bad debut at all—one well worth your time.



© 2007 CMCentral.com. All rights reserved. Used with permission.



Visit CMCentral.com now and join the single largest online community of Christian music fans on the internet. CMCentral features daily music news, exclusive interviews, album reviews, weekly devotions and feature articles written by some of your favorite Christian artists, and much more. CMCentral is also the home of the most popular Forum for Christian music fans that you'll find anywhere on the Internet. Come see what all the buzz is about!