Modern Rock Worship Still Remains on "Unfailing Love"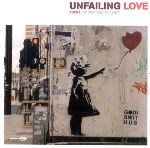 Artist:  Various
Title:  "Unfailing Love"
Label:  Vineyard Music
The world is constantly changing. Trees lose their leaves each year, flowers and grass whither away, and our supply of natural resources continues to dwindle.

We ourselves find that our bodies deteriorate over time. We get wrinkles. We have less energy and strength. Our health fails. In spite of all that's going on around us, God remains the same – as it says in the book of Hebrews – yesterday, today and forever. Since God loved us in the beginning, that means He loves us still now and will continue to love us for all eternity.
Relying on and believing in that truth, provides comfort, assurance, and the backdrop for the latest project from Vineyard UK, "Unfailing Love." Following the vein of the modern rock worship sound established years ago by groups such as Delirious, the album shares a crystal clear message of the God's love via the vehicle of contemporary music. "Walk Humbly," for instance, discusses the desire to offer God what He desires based on the directive given in Micah 6:8. Each song seems to build on the concept of God's faithfulness and never-ending love for us as summed up by the title track.
Musically, the album centers on the driving beats that seem to stir the soul into action. While one can easily hear the influences of Delirious or Matt Redman, the songs manage to come across as fresh and full of life. Tracks like "The Only One," which has a folk meets rock song feel, "Reason" which is a ballad tinted with a slight touch of blues, and "Love Divine," which has a modern rock bent and a driving rhythm exemplify the album, which seems more suited for performance worship rather than corporate worship.
Overall, the album offers listeners a fresh breath of worship that proves that the Vineyard Movement is alive and strong in the UK. With ten tracks of modern worship, "Unfailing Love" should appeal to fans of the Passion movement, Matt Redman, or The Listening. The project has a good mix of upbeat and slower songs that encourage listeners to approach God with reverence and praise.
 


© 2006 CMCentral.com.  All rights reserved.  Used with permission. 

Visit CMCentral.com now and join the single largest online community of Christian music fans on the internet.  CMCentral features  daily music news, exclusive interviews, album reviews, weekly devotions and feature articles written by some of your favorite Christian artists, and much more.  CMCentral is also the home of the most popular Forum for Christian music fans that you'll find anywhere on the Internet.  Come see what all the buzz is about!