Monk & Neagle Takes Two on The Twenty-First Time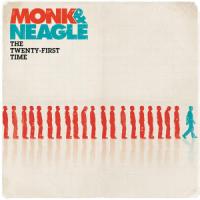 Artist: Monk & Neagle
Title: The Twenty-First Time
Label: Reunion
Relationships are key on the second major label project from singer/ songwriter duo Monk & Neagle. Now landing at Reunion Records after Provident Music Group purchased Flicker, the duo releases The Twenty-First Time, a project full of interpersonal narratives on a backdrop of memorable acoustic pop produced by Ed Cash (Chris Tomlin, Bethany Dillon).
The centerpiece of the stories is the title track, placing a relatable focus on serving Christ by serving His children in need: "But what if it's Jesus and I walk away?/I say I'm the body and drink of the wine/But I pretend not to see Him for the twenty-first time."
The artists pay tribute to their spouses with breezy love songs like "Yours Forever," the Caribbean-flavored "Wonderful Angel" and the catchy opener, "Beautiful You," a fun summertime treat. The crossover-worthy "Stars Would Fall," which appeared on the group's debut, makes another appearance here as well.
Other highlights include the simple but distinctive praise of "Hallelujah Jesus" and the poignant "What Soldiers Do," which finds a father on the battlefront sending love and lessons to a son at home.
With a polished acoustic-driven sound and heartfelt lyrics, The Twenty-First Time creates a nice blend of praise to the Father, love to family and encouragement to listeners.




© 2007 CCM Magazine. All rights reserved. Used with permission. Click here to try a free issue.