More Memorable Sing-Alongs in Daughtry's Town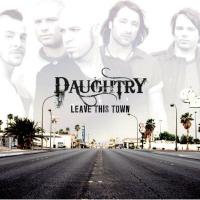 Artist: Daughtry
Title: Leave This Town
Label: RCA Records
Here come the anthems …
Let's admit that an intro isn't even necessary here. After all, even those who normally hide under rocks from popular culture are aware of Chris Daughtry and his namesake band who stormed up Billboard charts like few artists in this digital age. The American Idol contestant took millions of listeners "Home" with him and set Soundscan records for his band's fast-selling rock album in the process.
Now the five-piece is back for more with Leave This Town, a collection seemingly built on a pure need for songs to fill arenas. Besides a few acoustic numbers, Daughtry wrote (or co-wrote) enough songs to keep things interesting for the thousands destined to see the band in the next couple of years in amphitheatres and stadiums nationwide. The goal isn't to be good, just memorable. And to that end, Daughtry succeeds well enough.
However, these bands are a dime a dozen and, consequently, so are these songs. The carbon copy feel of "You Don't Belong" and "Supernatural" fit perfectly on any album by Nickelback, Three Doors Down or even Daughtry's first album; so there's hardly any inspiration found here. On the contrary, it's vapid and unimaginative—void of any real creative spark.
Then again, that's not why you listen to a band like Daughtry. Leave This Town is about having a good time and the ability to sing along in the process. And the catalog here allows for that, at least.
© 2009 CMCentral.com. All rights reserved. Used with permission.




Visit CMCentral.com now and join the single largest online community of Christian music fans on the internet. CMCentral features daily music news, exclusive interviews, album reviews, weekly devotions and feature articles written by some of your favorite Christian artists, and much more. CMCentral is also the home of the most popular Forum for Christian music fans that you'll find anywhere on the Internet. Come see what all the buzz is about!

**This review first published on September 1, 2009.