More Sheen, Less Rawness Found in Switchfoot's "Sound"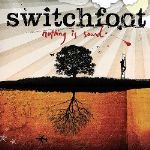 Artist:  Switchfoot
Title:  "Nothing Is Sound"
Label:  Columbia/Sparrow
The great artists – The Beatles, U2, Amy Grant and dc talk come to mind – often weather the excruciating calling to grow up in the public eye. And while it's too soon to count Switchfoot among such heady company, there's an upward trajectory worth noting:  The San Diego outfit (live and in the studio) has moved mountains since its geeky "Legend of Chin" days. Once a trio, Switchfoot is now a five-man, modern-rock monster fresh off "The Beautiful Letdown," a double-platinum classic sparked by multi-format hits such as "Meant to Live" and the stirring remake of the band's 2000 standout, "I Dare You to Move."
As follow-ups go, "Nothing Is Sound" stands on its own with the same Switchfoot strengths shining:  indelible hooks, turbo-charged rhythms and Jon Foreman's one-two punch of world-weary vocals and sage lyrics. Perhaps the most pointed words on this album come on the song "Politicians," as Foreman hammers home a powerful reminder that God's Kingdom is not of this world:  "I pledge allegiance to a country without borders, without politicians."
What's more, Foreman has been delving into Ecclesiastes of late and catching up on his Bob Dylan reading. "Happy is a Yuppie Word" takes its title from a Dylan response to a Rolling Stone interviewer's question:  "Are you happy?" With his voice frayed as a serrated guitar string, Foreman shouts the refrain "nothing is sound" over and over until his conviction froths into fury.
Switchfoot's brand of modern rock is meaty and thick, as "Sound" strives for a feeling Foreman describes as "bro-fessional," combining studio sheen and garage-nurtured rawness. Arguably, the disc tilts toward the sheen side; and at times the loud guitars, hammering drums and singular vocal presence of Foreman collectively create a play-it-safe, formulaic vibe. Not that this is a band prone to throwing in a stray banjo riff or trombone part a la "Pet Sounds" – but a little more serendipity at this stage of Switchfoot's artistic career wouldn't hurt either.
That said, the band never loses sight of an overarching theme that gives this record its gust-of-fresh-air quality: American life is full of dead ends. We the people – sometimes even the most seemingly godly of us – pursue bigger cars, bigger houses, better jobs and man-sized bric-a-brac to fill God-sized holes. Jon Foreman is firmly tuned into this, and "Nothing Is Sound" points to the Answer not with sternness or paint-by-numbers platitudes. Rather, "Sound" is authentic because Foreman comes across, to quote "The Shadow Proves the Sunshine," as a "crooked soul trying to stay up straight."

© 2005 CCM Magazine.  All rights reserved.  Used with permission.   Click here to subscribe.