More Straightforward Rock on Kids' Masquerade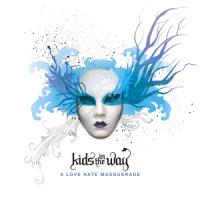 Artist: Kids in the Way
Title: A Love Hate Masquerade
Label: Flicker
Current fans of Kids in the Way should be very pleased with the band's latest offering. Returning to form, the band offers another fine collection of straightforward rock songs with pop sensibilities.
Unfortunately, the band may have a difficult time converting new listeners. While it is refreshing to hear a young band that has not jumped on the screamo bandwagon, one cannot help but succumb to a "been there, done that" attitude after listening to the first few songs; the album does not really start getting interesting until halfway through. With songs like "Far from Over" and "Sugar," it is obvious that this is a band that can make great music.
However, the album may not hold the average listener's attention long enough for him or her to find these gems. Although the band is quite adept at writing memorable melodies, it is rarely able to distinguish itself from other artists. At times, it sounds like any number of other teen garage bands. Even the band's name alludes to the sound you are going to hear when you turn your CD player on.
That said, most of the songs on this album should translate very well in alive setting, where this band really shines anyway.






© 2007 CCM Magazine. All rights reserved. Used with permission. Click here to try a free issue.