Mullen Sits at the Feet of Wisdom on Sharecropper's Seed
Mike Parker

CCM Magazine

2007

18 May

COMMENTS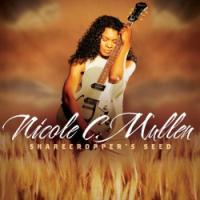 Artist: Nicole C. Mullen
Title: Sharecropper's Seed, Vol. 1
Label: Word
Few artists in any genre have the ability to continually re-imagine their sound in order to remain compellingly current, while maintaining a fluid connection to their musical roots.
Nicole C. Mullen is one such artist, and her latest project, Sharecropper's Seed, perfectly illustrates that point. Flowing effortlessly between smooth, Celine Dion-esque pop to creaky, Alanis Morissette-meets-Patti LaBelle alt-R&B, Mullen struts, skips and meanders through 10 tracks that are at least as autobiographical and family-focused as her self-titled debut from way back at the turn of the century.
On the title track, a sparsely orchestrated, acoustic guitar-driven ballad, Mullen traces her roots back to her grandfather, a wise old sharecropper who was careful to pray for a bountiful harvest in both the natural and spiritual realms. Like her grandfather, Mullen reminds us that we are all merely sojourners on this earth, and that any good fruit that comes today is probably the result of careful planting from generations past. "Baby Love," the album's closer, finds Mullen reaching forward to the next generation as she croons a peace-filled lullaby to her children.
But lest you think she is too smooth to groove, "So in Love," finds Mullen drawing vocal inspiration from a rusty hinge, groaning, creaking, then slithering over a smoldering blues riff that would feel right at home on the Mississippi delta. "Under the Shadow" sports a light Caribbean flair, mercifully sans steel drums, while "Fall" uses well-placed fiddle to evoke a new-country vibe with an urban twist.
Mullen's greatest success has always come from her soaring, genre-defying ballads like "Redeemer," "Call on Jesus" and "On My Knees." While there are numerous candidates for radio success on this project, including "Touch," "I'm Convinced" and "I Wish," all of which contain some serious spiritual meat, there doesn't seem to be a blockbuster in the bunch.


© 2007 CCM Magazine. All rights reserved. Used with permission. Click here to subscribe.