MxPx "Let It Happen" Again in Deluxe Edition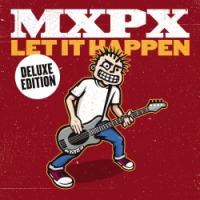 Artist: MxPx
Title: "Let It Happen (Deluxe Edition)"
Label: Tooth & Nail
Like any punk band worth its salt, MxPx has been more than prolific in the "extras and rarities" department. Seven-inch singles, "B-sides," cover tunes and "early demos" abound in the band's archives.
In 1998, the Bremerton Boys moved from Tooth & Nail (the upstart underground label that launched the band, and vice versa) to A&M Records. In true record label fashion Tooth & Nail sent them off by releasing a collection of 34 of those great odds and ends called "Let It Happen." Despite radically divergent quality, sounds and even styles, the compilation became both a fan favorite – selling more than 450,000 copies – and a critical hit.
It's been more than eight years since then, and MxPx is still going strong with its pop punk stock-in-trade. But in these retroactive days the folks at T&N are gleefully unwilling to let sleeping dogs lie.
"Let It Happen (Deluxe Edition)" starts with the original and impressive compilation and adds more unreleased songs, including three old demos and three brand new studio recordings. The new tracks, "Role Modeling," "Prozac" and "Your Turn" rank among the band's biggest sounding tunes yet. More classic rock than pop punk (not a snot-nosed Green Day vocal in the batch), the opening trio of tracks comes complete with killer riffs and thunderous production.
Throw in the bonus DVD stocked with 12 MxPx music videos and more photos, and you have a "Deluxe Edition" indeed. Purists will love that a few of the old demos from the original have been left off to make room for the new ones.


© 2007 CCM Magazine. All rights reserved. Used with permission. Click here to subscribe.


You can watch the latest MxPx music videos at Godtube.com.