"My Mother's Hymn Book" a No-Frills Disc from Man in Black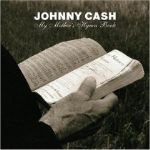 Artist:   Johnny Cash
Label:   Lost Highway/American
It's hard to say anything but good things about Johnny Cash. The Man in Black is revered as an American icon. His death in 2003 prompted a slew of musical tributes, magazine covers and books written about his life and influence in the current musical culture.
Cash lived many years mirroring the rock star stereotypes: rebellious, unruly, spirited. Drugs and alcohol peppered his volatile personal life, especially during his young adult years; but music making always remained at the core of Cash. He wrote simple, melodic, guitar-driven tunes often focusing on the poor, the underdog, the oppressed and, of course, his profound faith. It was obvious that the man experienced each line of each song; and his distinctive, twang-tinged baritone set him apart from his country contemporaries throughout the ages.
Lost Highway/American Recordings recently issued "My Mother's Hymn Book," which reflects Cash's affection for the gospel music of his youth, to which he often returned and found solace in over the years. This album is a no-frills disc of 15 traditional hymns, with just Johnny's raw vocals set over a finger-picked or strummed acoustic guitar. On first listen, one can easily picture Cash at home in his living room with a battered acoustic and an old Baptist hymnal.
"Do Lord," "I Am A Pilgrim," "I'll Fly Away" and "Just As I Am" are all part of the selections. There's nothing revolutionary about his renderings, but that's the beauty of the disk. It's just a quiet guitar, a Johnny Cash vocal and an old gospel hymn. And that's plenty.

© 2004 CCM Magazine.  All rights reserved.  Used with permission.  Click here to subscribe.