Natalie Grant: Even Better as the Real Thing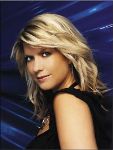 She practically grew up in the church and then established herself as a successful artist known for happy pop anthems that Christian radio listeners can't get enough of. But Natalie Grant's worldview and her approach to life, music and ministry have recently undergone an extreme makeover of sorts. And as Alanis Morrissette famously did in one of her songs, Natalie can also thank India for providing her with this new outlook.
"Comfort zones are plush-lined coffins. When you stay in your plush-lined coffins, you die."
— American missionary Stan Dale
Usually it's criticism or, perhaps, a lack of commercial success that serves as the catalyst for a musician to re-examine his/her artistic motivations. But for singer Natalie Grant, it was actually a compliment from a Christian radio peer that really got her thinking.
"This radio guy said to me, 'Natalie, we can always count on you for the happy, "feel good" songs.' And I know he meant that as a compliment, but I was like, "Is that all I am to you guys — the girl who has all the 'Keep on Shining' songs?" It was then when I thought, 'Thank you, God, for all I've gone through' because without it, I would've never dug deeper," Natalie says. "I would've just been happy to stay on the surface."
While lounging in her favorite overstuffed chair in the living room of the Brentwood, Tenn. home she shares with her husband (and producer), Bernie Herms, Natalie divulges just how her personal and professional comfort zones have been rocked recently like never before. In the same way a girl would dish on her latest crush with her closest friends, there's almost a giddy enthusiasm in Natalie's voice as she discusses the evolution of her music on her new album, "Awaken" (Curb). 
"I must admit that I'm a bit of a late bloomer," Natalie confesses. "I've known Christ since I was 6, but just because you've figured out how to keep yourself out of hell doesn't actually mean that you've figured everything out. You know Christ as your Savior, but you don't know Him as your friend. And it's taken me to this stage in my life to figure out that He's much more than my Savior. He wants this personal, individual relationship with me. He wants authenticity, and so do the people I minister to.
"I am finally comfortable with saying that I don't have all the answers. Sometimes I actually have way more questions than answers. I think I've finally embraced my weaknesses in all of that, and I'm seeing my audience connect in a different way."
The Death of the Perfect Power Ballad
With "Awaken" her audience is also going to hear a new side of Natalie as well, as she's axed the tracks and signature high-note endings in favor of live instruments and a more organic approach.
"I wanted to make sure that if I was going to be raw and honest in my lyrics that the music had that same feeling," Natalie enthuses. And unlike her previous outings, she also wanted to take more ownership in songwriting, too.
"Overall I was very involved in the entire process. I didn't write every song; but at the same time, I feel that every song on the record is from my journey. I didn't just want song pitches and 'the next hit song' this time around. They had to make sense for me to cut because I wanted to approach it honestly."
For Natalie, the process of making "Awaken" was almost like starting her career all over again. "I honestly wish this was my debut. It's a bummer because you only get one chance to make a first impression. But I've fought that my whole career," she recalls. "This time I finally feel like I have material that I hope will speak for itself."
This Ain't No "Desperate Housewives"
But what led to what's probably Natalie's greatest "awakening" of all began in a rather unlikely place — in front of her TV — as she watched one of her favorite shows, "Law and Order SVU." On this particular episode, the show's focus was on the issue of human trafficking, something Natalie hadn't heard about before.
"They were showing these kids who had been brought into America. One of them was going to be sent to be a servant at a house for underage labor. He was 8. And another kid was being held in a basement at a house and being used for sexual exploitation," Natalie recalls. "And I was like, 'No way. This isn't happening in America!' They were showing these kids who were being hauled off in cages. They were all chained up and given only a little amount of food. Basically they were only let out for sexual favors. And I didn't exactly know why at the time, but I couldn't get away from that image of that show."
Afterward Natalie was amazed at what she found when she conducted an Internet search on "human trafficking." She discovered that more than two million children had been forced into prostitution worldwide, including around 25,000 in America. "I was like, 'You've got to be kidding me — that somewhere, while I sit here in front of my nice little laptop, watching my television, there's an 8-year-old who's being forced to have sex with someone.' I couldn't fathom it," she says. "And then I got really ticked off. Here we are as the church — and I'm so grateful for all the organizations that are feeding starving children — but these are starving children who are also being forced to do the unthinkable. Why is it that in the church we haven't heard about this? I've never heard someone going, 'We need to reach out to these kids.'"
After taking her Web research a little further and searching "faith-based organizations that deal with human trafficking," she found an organization called Shared Hope that addressed the issue; and she began to uncover stories of people who've actually been rescued from their plight. "I'm sitting here at 3 in the morning, and I'm bawling my eyes out. I thought, 'I have to do something about this.'"
Mere coincidence? She thinks not.
After reading more on Shared Hope, Natalie was impressed by what the organization was doing to help. "The thing that was important to me was that it was more than merely providing food and shelter," she comments. "They were giving them education. And after they completed their schooling, they gave them job training, basically enabling these people to have a successful life. So I was interested to know more."
And one teary phone call later she did. "I knew the lady on the end of that line was like, 'We've got some crazy girl that's crying on line one,'" Natalie says with a laugh. "I told her that I was watching 'Law and Order' last night, and she said, 'They showed the human trafficking episode, didn't they?'"
Then Natalie proceeded to tell her how she found the group online and that she could probably help raise money because she was a singer. And when the woman asked her name, the confirmation that she needed to do something became even more apparent. "She said, 'No way! I was just at your show in Portland last week.' And I said, 'I did do a show in Portland last week. Wow, God, You are so in this. None of this is happening by chance; this is all part of a plan.'"
After connecting with the organization's founder, Natalie learned that the office members at Shared Hope had recently prayed together and wholeheartedly believed that this was going to be the year that human trafficking would get a real public platform. And it turns out that with Natalie's help, it would. But first she would get invited on a trip to India that would change her perspective forever.
The Silent Treatment
But before she'd get that stamp on her passport, Natalie faced something she'd never struggled with before: vocal trouble. Unlike the typical diva with a booming voice, Natalie never really warmed up before she sang. Nor did she employ the Céline Dion practice of wearing a scarf and refusing to speak on show days. "I was always like, 'Puh-leeze!' But I was probably irresponsible with my gift," Natalie says. "I didn't know how to take care of it. And it caught up with me.
"I had done a Women of Faith conference in Denver and halfway through the show, I felt something happen. I could hardly speak. I couldn't sing, and they [doctors at Nashville's Vanderbilt Vocal Clinic] said that my left vocal chord had ruptured, and it was bleeding."
And then the typically chatty singer got a prescription she wasn't quite ready for: 21 days of total silence. Not wanting to permanently damage her voice, she obeyed the doctor's orders and was on her way to a foreign land as a "mute," whose only means of communication was hand-written notes.
But when she looks back, she really sees her silence as a blessing in disguise. "I think I was able to experience it on a different level because so often we speak without thinking. And when we talk so much, we can't digest things like we can when we just listen," she remembers. "It's so funny because I'm going to this ministry to meet these girls who've been forced into prostitution, and they're praying for me because they think I'm a mute. They had to explain to them: 'She's a singer from America,' and they're like, 'What?' and just want to pray for me."
Culture Shock
One of the first places Natalie, her husband and her road manager, Hope, visited while in India was the infamous "Red Light District." Natalie says that nothing could've prepared her for what she'd see there. "You're walking through the streets, and the poverty is already so overwhelming. Before you even go into the brothel district, you see how a family of 10 has to take shifts in sleeping because there's only room for one bed where they live," Natalie recalls. "You also see people going to the bathroom in the streets. I've been to the slums of Ecuador before — the poorest of the poor — and it looked wealthy compared to what they considered middle class here."
As they continued walking down the street, Natalie witnessed something else that stopped her dead in her tracks. "I saw what was probably a 7-year-old girl, and she's peering down from a cage. I just remember her little hands on the bars," Natalie says. "She looked out at us, and I thought I was going to throw up. Here are people just walking with their baskets of food in the hubbub of the day; and every day this girl looks out, she sees people, and they don't even notice her."
Stunned, Natalie grabbed her notepad and pen.
"I asked the man [K.K. Deveraj, who Natalie just calls "Deveraj"] who was taking us around, 'What's the deal? There's a girl in a cage.' And he replied, 'That's where she's held until she is brought out to service a client.' A lot of times they hold them in cages until they break their spirit and know they won't run away.'"
In the center of all the cages and chaos, however, is a place, the clinic, that Deveraj started to provide a sense of relief and start the process of rescuing people from human trafficking. "Deveraj is one of the most unbelievably amazing men I've ever met. My husband and I felt bonded to him immediately," Natalie says. "He rolls up his sleeves, and he's just living it. When he was 21, he was in Lebanon and working in the oil business. His family was very wealthy, and someone introduced him to Christ. He got radically saved and was immediately disowned by his family. He still has no contact with them even today. But he knew that God was calling him to go back to his people and tell them who Jesus is. And so he went back to Bombay and started this ministry."
Deveraj and the people who work with him at the clinic help build relationships with locals by providing for their physical needs in hope of gaining their trust and getting them to voluntarily leave their current situation. Deveraj also built a nighttime daycare center so that the children will have a safe, clean place to go while their mothers "work."
"A lot of these girls are moms because they've been forced to have sex since they were 8, so they'd get pregnant very young," Natalie says. "They'd have no place to put their children. So if they had a small child and would start work around 5:30 at night, they'd tether their child to the bed while they service clients. That way their kid won't run away, and they don't have to worry about childcare."
Natalie says there are about 200 children who go to the daycare center and while she was there, she was able to spend some quality time with them and provide them with a few treats and trinkets her fan club had collected as a surprise for her to take on her trip.
A Place Called Hope
After seeing where these kids came from, the last stop of the trip was the Village of Hope, the rescue oasis for victims of human trafficking located two and a half hours outside of Bombay. "It's a beautiful facility," Natalie says. But what impressed her even more than the incredible schooling opportunities, practical training, pristine conditions and the overall beauty of the scenic location is the 95 percent success rate. "This spoke volumes to me," Natalie said. "Ninety-five percent of them are completely off drugs, rehabilitated, educated, and 95 percent have accepted Christ and renounced Hinduism — amazing!"
And it was through this experience of seeing these kids freed from the bondage of human trafficking that Natalie got a vision for her own "home" — The Home Foundation and a song called "Home" that she dedicates to these girls on "Awaken." "I didn't go there thinking that God was going to burden my heart and life for India. But I fell in love with the culture, the people, the city — everything. I knew I was going to spend this year doing anything I can to share funds with them as there's a desperate need for a medical clinic," Natalie says. "The best way to accomplish what I want to do was to start my own foundation. That way I can give 100 percent of the money to exactly where I want it to go."
And she's serious. In an earlier conversation with CCM's editorial staff, she said that the plan is to devote a certain number of shows on her spring tour to The Home Foundation — meaning, all profits, including commissions for booking and management, will go directly to the foundation. Natalie said she wanted to reach high goals financially, and the only way to be sure she'd reach them was to dig into her own pocket.
But when it comes to processing all that she experienced while in India, Grant says she "still has hard times with it," even months after she's returned to "life as usual."
"I really pray that God will continue to make me uncomfortable with my life because once you get back, it's very easy to get comfortable and forget the impact.
"I really don't think I'll ever be the same. What was always my driving passion was my music and making the right record. I loved the business side, too, the marketing meetings. This experience, however, has changed the course of my entire life. I've had an awakening. I've been awakened to the reality of how selfish we are and how the only way we can get outside of that is by allowing God to penetrate every area of our lives. It's funny because it's easy to blame the kind of music I did in the beginning of my career on my record company. But part of why I was doing this 'false-front' music was because I was a false front. I can't just blame it on everyone else because my music was as deep as I was. So I guess I'm learning to be honest about my failures and why I do music and have a platform. It's to effect change."

© 2005 CCM Magazine.  All rights reserved.  Used with permission.  Click here to subscribe.