Natalie Grant Shines Hope in Midst of Hurricane
Lindsay Williams

Crosswalk.com Contributing Writer

2013

15 Oct

COMMENTS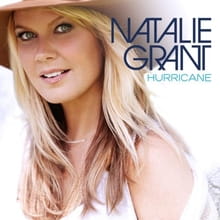 Artist: Natalie Grant
Album: Hurricane
Label: Curb Records
If Awaken was Natalie Grant's career album, Hurricane is the landmark recording that will redefine her career. While Grant has consistently been one of Christian music's best vocalists, 2005's Awaken displayed a surprisingly raw, never-before-seen side of the pop songstress. Hurricane, Grant's eighth full-length release, reveals yet another facet of the transparent artist she has become, and fans will instantly relate to the ten candid tracks.
The hopeful nature of these songs belie the fact that they were birthed out of one of the darkest times in Grant's life. A battle with postpartum depression and her father's cancer diagnosis gave way to new songs steeped in contradiction. The melodies are some of the heaviest pop-centric sequences of her career, yet the lyrics stand in stark contrast boasting doubts, fears and personal pleas of desperation and despair.
"Closer to Your Heart" kicks off with high-energy, heart-pumping beats in the vein of Katy Perry and Kelly Clarkson. The power-pop leads into the unforgettable "oohs" of the title track that fans are already singing, thanks to extensive radio airplay. Additional cuts like "This is Love" and "Dead Alive" are soaked in more rapid-fire pop, ready-made for live concert experiences.
The five-time GMA Female Vocalist of the Year duets with Rascal Flatts' lead vocalist Gary Levox on "Born To Be," a mainstream-ready single with a straightforward Christian message. Grant closes the set with an interesting Mumford-esque, foot-stomping cut called "In The End." A few original worship-oriented songs are also sprinkled throughout the set list.
By far, the two best tracks are the most personal. "Burn Bright" was written as an open letter from Grant to her nephew who is currently battling a drug addiction. A haunting, sparse piano melody cocoons Grant's explosive vocals and emotive lyrics: "You were made to shine/ You were made for life/ Even if you've lost your way/ Turn and you will hear love say/ You were made for more, so much more/ Child of everlasting light/ Made to blaze away the night/ So baby, burn bright/ Burn bright."
"When I Leave The Room" is a tear-inducing ode to Grant's three daughters, written by the incomparable Nichole Nordeman. Grant sings about praying for her daughters in every stage of life and one day leaving them with Jesus when she goes to heaven. Her husband, Bernie Herms, who produced the album in its entirety, provides subtle background "oohs" on the song. It's one of Hurricane's sweetest moments.
With relevant beats and, at times, gut-wrenching lyrics, the prize of the album is found in Grant's unabashed honesty. Hurricane is a small glimpse into the award-winning singer's life behind the music, and it may just eclipse Awaken as Grant's finest effort yet.
*This Review First Published 10/15/2013