Need Plumb Now?
Tim Laitinen

Crosswalk.com Contributing Writer

2013

20 Mar

COMMENTS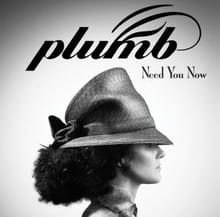 Artist: Plumb
Album: Need You Now
Label: Curb Records
Behind every public persona lies the real personality. The person the celebrity must live with 24/7. Take Tiffany Arbuckle Lee, for example. To her legions of fans, Plumb is the epitome of sophisticated religious pop. However, behind the diva portraiture and sandpapery voice lie lessons learned from a personal history of anxiety and depression.
She's not the hard rock songstress she used to be, and Arbuckle Lee, as the creative force behind Plumb, willingly admits it. A marriage closing in on two decades' worth of commitment – plus motherhood to three daughters – are bringing out her more contemplative, introspective side in efforts such as her latest CD, Need You Now. In what could be described as highly stylized rawness, Plumb exudes a lushness that, if not adding to some disappointingly juvenile lyrics and rhymes, at least compensates for those deficiencies. With Need You Now, be prepared for anything. From dissonant acoustic tricks right off the bat on the first track, "Invisible," to riffs mimicking everything from Phil Collins to Cyndi Lauper to Downton Abbey, no less, this CD is a potpourri of beats, rhythms, and aural imagery.
Perhaps as unresolved residue from her grim history with anxiety – and how many artists instead try to cover up that which society considers a weakness? – Pumb's lyrics, while plaintive, tend to run a fine line alongside self-pity. At first, they appear to capture the fallen nature of man. One whole line in "I Want You Here" is simply "breathe." Meanwhile, other themes like elusiveness, impetuousness, and of being trapped flitter and sag unresolved from song to song. Perhaps it's more artistic license than anything, but where Gospel hope should shine, we get either saccharine relationships or pangs of narcissism.
There's an ode called "Beautiful" to her apparently long-suffering husband, and a dark ballad in honor of mothers who've experienced the death of a child, but otherwise, you'll be apt to wonder if the attention-seeking costumes Arbuckle Lee models in photos throughout her CD jacket fit a subtle yet recurring diva theme in her music.
Lyrics-wise, there's little here for most guys of any age to find relevant, apart from the overtly evangelical "Unlovable." Curiously, although it's number 7 on Need You Now's playlist, it's the CD's first song that references Jesus. But it's worth the wait. Since most church teen ministries probably run Plumb during their meetings, this is the one song from Need You Now that they will need to play over and over, especially considering the anti-bullying messages populating our social media these days. Even adults should consider these particularly convicting lyrics about the people we conventional Christians generally consider to be unlovable:
"But all we can think / About is our politics / So where is the love now / That we talk so much about…"
Just when you begin to think Plumb is all about style, she throws some substance into the mix.
*This Article First Published 3/20/2013