Needtobreathe: Life on the Outside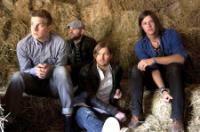 Conforming to a cookie cutter rock 'n' roll sound has really never been Needtobreathe's thing.
And if the musical transition between the decidedly Euro-flavored sounds of the band's debut, Daylight, to the far earthier vibe of the group's sophomore outing, The Heat, wasn't enough of an indication, well, that fiercely independent spirit is more front-and-center than ever on the band's latest effort, The Outsiders.
Given that half the band, namely brothers Bear and Bo Rinehart, grew up in a sleepy, Southern town in South Carolina called Possum Kingdom, a place with no music scene to speak of, it's really no surprise that they felt destined to approach music differently.
Now three albums into what's already been a career full of countless accolades including several Top 10 singles in both the Triple A and Christian radio markets, a Dove Award and song placements in popular TV shows and movies, the men of Needtobreathe still enjoy the thrill of a new challenge.
Wired for Sound
Instead of resting on past laurels, Needtobreathe was eager to switch things up some more, and recruited a dream team of three additional producers. With sessions taking place in Charleston, Atlanta and Los Angeles, the band had one of its most diverse—and tiring—recording processes to date.
"We've always been comfortable in the studio and had a process that worked for us," says Bear, the band's front man. "Computers have always been part of the recording, even [when] we started 10 years ago. That's how we learned. But when we worked with an old-school guy like Jim Scott who did Tom Petty's Wildflowers, everything was different. There weren't any studio magic tracks, and it was really difficult for us in the beginning."

About the Writer
After graduating with a B.S. in Journalism from North Central University in 1998, Christa Banister moved to Nashville, Tenn. and eventually started working at CCM Magazine/Salem Publishing in various editorial capacities (including managing editor) for five and a half years. After that, she launched her own freelance writing company and writes for numerous clients including CCM Magazine, Crosswalk.com (she review movies for them each week), Christian Single, Christianity Today, Threads Media, Songs4Worship.com, BurnLounge, PassAlong.com and helped kickstart the first Christian music blog for MTV. She also writes bios for professional recording artists and authors and penned her first two fiction novels for NavPress in 2007.





© 2009 GospelMusicChannel.com. All rights reserved. Used with permission.
**This column first published on December 10, 2009.

About Gospel Music Channel
Gospel Music Channel is the fastest-growing network in television and can be seen in more than 40 million homes on various cable systems around the country and on DIRECTV on channel 338. For more information, visit www.gospelmusicchannel.com.