Never Givin' Up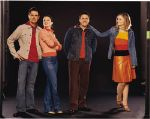 Folks who follow the world of pop music – Christian or otherwise – know that the release of a "greatest hits" album usually signifies the closing of some chapter  in the artist's life or career. It may be the last release on that particular label as the artist prepares to sign a new contract with another; or it may be the end of a particular endeavor, such as a band or vocal group.
For über-group Avalon, last year's "Testify to Love: The Very Best of Avalon" did not mark the group's final release for Sparrow Records, neither did it signify the end of the Avalon era. After all, the group's sixth album of new material (and eighth release overall), "The Creed" (Sparrow), hit the shelves in late February. So why should anyone assume there might have been trouble in paradise? Unless, of course, it was true.
It's been said that bad news comes in triplicate; and it's often not that first blow that levels you or even the one-two punch of the second, but it's that unexpected third sucker punch that scores the total knockout.
As original member Janna Long remembers it, "The moment, for me, came last summer. We had already been through so much two years ago and then to have Michael [Passons] leave last summer just basically had me throwing up my hands and saying, "OK, God, I've done this for nine years. It's been great, but maybe it's just time. Maybe this season of my life, this chapter of my life is just over; and I talked with Jody about that. When you've been beaten down, there's always that final blow."
The dark night of the soul for Avalon started in July 2001 with the most unexpected piece of news anyone could imagine. Sparrow Records Vice President of A&R Grant Cunningham, who helped form the group nine years ago and had been an integral part of all of Avalon's recordings, received a serious blow to the head during a soccer match and passed away shortly after falling into a coma due to swelling of the brain. To say the loss was devastating to the foursome was an understatement.
As Jody McBrayer explains it, "I don't think the typical Avalon fan probably knew who Grant Cunningham was, unless they are just the type to really read the credits diligently. Even within the industry, I'm not sure how many knew how deeply this affected us. Grant signed Janna and me to Sparrow; and if [producer] George Martin was the 'fifth Beatle,' Grant was the 'fifth Avalonian.' There wasn't a record that was made or a song that was sung or written that Grant didn't have his fingerprints on. So to be sitting at his funeral was a very surreal time for us; and it just left us with a very hollow feeling, wondering what we were going to do.
"Cherie [Paliotta, now Adams] left shortly after that, which, although she was a newlywed and wanted to give her new life some attention, I do think her departure had a lot to do with the pressure we all were under, the sense of loss we felt. Cherie was a very emotional person, too. She felt things much deeper than most people, which made her fantastic at what she did; but it also sometimes added an extra burden for her."
The loss of Grant and Cherie left Jody, Janna and Michael down but not out. After hiring fellow Truth alumnus Melissa Greene to replace Adams, the group recorded three new songs to accompany its greatest hits album, which released a year ago. It featured 12 former No. 1 songs. (Two of the three new songs climbed to the top of the Christian pop charts.) With the ever-present support of its fans, a fair amount of touring and a live DVD release last year, things were looking up again for Avalon.
But bad news did, indeed, travel in triplicate. As Jody tells it, "We had a meeting at Michael [Passons]'s house one day, and he told us he was going to move on to other things. We sat and cried and felt like the rug had been pulled out from under us. Things had felt great with the new group, and Michael seemed to get along and blend vocally with Melissa really well. But Michael had been with us from the beginning and just felt it was time for him to do something else. It's weird, but, since his departure, it seems everyone is looking for some scandalous thing to have happened there. It makes me just want to say, 'Look, I'm sorry to disappoint you that we don't have some juicy gossip or 'Dynasty' episode happening here.'"
"The fact of the matter is Michael is a songwriter," adds Melissa, "and there were songs Michael brought to Avalon that we turned down because they sounded like personal, solo songs; we don't record songs like that."
"That's why I chose to make my solo record," continues Jody, who released "Who I Am" in September 2002, "There was this group of songs that I had either written or co-written that I knew would not work for Avalon. You can't force your vision on three other people. I think those kinds of issues contributed to Michael's decision to leave the group. But he is going on in a solo ministry, and we wish him the very best."
But best wishes aside, Michael's departure began a season of self-examination for the singers that, quite literally, brought the group to its respective knees. As new member Greg Long (who was only watching from the sidelines at the time as Janna's husband) tells it, "When Michael left Avalon, I can tell you even from a spouse's vantage point – as well as Jody's friend – Avalon almost was not. Melissa had just moved to Nashville and bought a home, and … things almost came to a halt right there."
Season of Their Discontent
With circumstances as difficult as they were, the criticism Avalon continued receiving – and had felt for years – from the Christian industry couldn't be coming at a worse time. As is the case with pop counterparts such as the boy bands and "American Idol" winners, the public may love them to the tune of gold or platinum; but the critics just seem to love to … well, criticize. The same has seemed to be true for Avalon from its inception, according to its members. No matter that the group has now garnered 19 No. 1 songs, 20 Dove nominations and three Dove Awards as well as the American Music Award for its "Contemporary Inspirational Music" category, the fact is that critics – both Christian and mainstream – never seemed to warm up to superb, pop song stylists like these. They do, however, seem to gravitate (sometimes indiscriminately) to even the most mediocre singer/songwriter types.
Says Jody, "I think from day one we've had to live down [the criticism of] being 'manufactured' or put together. The concept of the group was not mine and Janna's; we were approached [and asked] if we would be interested in being part of something like this. For the first three or four years, that was a real cross to bear for us. Most Christian bands formed in college or in the garage or at their church; but, for us, it was really different. Now it's more commonplace; but, even so, we were always seen as the glossy picture and production style artists. That's something that, for us as individuals, is a part of who we are. But we always knew there was so much more."
"The thing I don't understand about the critics is that they seem to disrespect these types of artists from the outset by the way they were discovered," adds Janna. "I mean, if their talent is there, why does it matter how it came to a label's attention? Whether you are discovered by someone hearing you at your college or by your being in a talent search, your talent is the same."
"It's been a difficult thing for us within the industry, in particular," Jody continues. "People who love our music have been extremely supportive of us, but the industry has been quick to write us off for reasons none of us completely understand. For example, we won the American Music Award last year. My wife, who works in the industry, came back to her office after the Awards, all excited to tell her co-workers; and people in her office said, 'Oh, the only reason Avalon won is because they were there.' We just have a hard time understanding why people in the industry seem to want to tear us down when we get such great feedback from our fans.
"All of that leads us to places that make us ask, 'Why are we doing this? Is it to please industry types, our audiences, the Lord or ourselves?' Obviously, we feel this is our calling, our ministry (and a very viable ministry); but we also do a lot of this for ourselves. The kind of music we record is the kind of music most of us would listen to at home. We love R&B/pop music, and we try as best we can to do what we love within the formula we're given."
"The funny thing was," says Janna, "although inside the group we felt very weary and fatigued, it seemed God just continued to do things that were just blowing us away. I remember we had this one show last summer when Greg was filling in after Michael left, where we really felt God's presence in the concert; and people were really responding with their own worship more than what we see normally. It seemed like the harder things got for us, the more things started happening for our ministry. For me, that was even a bigger sign of God's communicating: 'I am not done with you yet.'
"There's this song Jody sings on the new album called 'You Were There' that has a line in it that says, 'You were there when obedience didn't make sense.' For me, it was like a light bulb went off in my head because, even though my world as I knew it was crumbling, falling down, I did not feel a release from this [group]. So, for me, I just resolved that until I felt differently, I would just keep showing up for work."
Reinvested
And show up they did, along with about 15 of the industry's top songwriters, to a "writer's camp" of sorts, put together specifically for Avalon to begin the process of writing for the album that would become "The Creed" (Sparrow).
"The writer's camp was a vision of Grant Cunningham's," explains Jody, "though we had never done it before. We talked about doing it for "Oxygen" but ran out of time. We mentioned it to Brad O'Donnell, our new A&R guy – who's had some big shoes to fill – and he stepped up to the plate on our behalf and let us give this a try. Part of the reason we wanted to try this was because we wanted to invest more into the songs ourselves. Did we feel we wanted to try writing all the songs alone for the first time? I don't think any of us – with the exception of Greg – are really good enough writers to tackle that alone."
"It was a desire in us to nourish that gift," adds Melissa. "I had always wanted to write with Cindy Morgan, so we invited her to come; and we all agreed upon the writers we wanted to be a part of this."
Greg continues, "We were invited to tell this group of writers what we were feeling, the things we wanted to say on this record. A lot of ideas were birthed there but not turned into completed songs. But three songs that made it onto the record came out of that experience. It was really amazing. I have to tell you it was really interesting," Greg continues, "to watch the transformation in Jody alone, who said on the tour bus at one point, 'Maybe this is done. Maybe we're done with this.' Less than three months later, I heard him say, 'I don't care if we've got a record label or not. If we're supposed to keep doing this, we'll make our own records if we have to.' That's a significant transformation."
That transformation is palpable on "The Creed." Produced by the "dream team" of Charlie Peacock, Brown Bannister and Tedd T., the album sports the same perfect, pop music that fans and critics alike have come to expect, but its lyrics dig deeper at times … if not too specifically. When asked why none of the lyrics seemed to address the trials of the last few years by name but rather in broader, more religious language, Jody tried to explain.
"I feel like what we're called to be as a group is sort of an 'all things to all people' kind of thing. I don't think we're called to do deeply introspective songs in Avalon, but I guarantee you that on this new album – more than any we've done – songs like 'Renew Me' represent our real heart's cry right now. 'You Were There,' as Janna said, is deeply meaningful for us. And I think one of the reasons we chose to record (and title the album with) "The Creed" is because even the first verse says, 'I'm broken and battered/And I'm desperately searching for faith to make sense of all of this mess.' We're sort of back to a place of embracing some real fundamental truths and, churchy or not, those lyrics are no less true for us."
"You know what?" Janna interjects. "I can't sing about drug addiction; I can't sing about an abortion; I can't sing about a marriage falling apart. What I can sing about is being a kid who has heard about God all her life and has had those crisis-of-faith moments when I have to ask myself, 'Do I really believe what I say I believe because my parents taught me or because God has shown His presence to me personally?' "
"There's a part of me that abhors 'Christian-ese' language," Jody continues, "because I remember a time when everything in my world just felt really crappy, and my pastor said that morning, 'God will never put more on you than you can bear.' I just thought, 'Forget this.' I think our music is a key that opens the door for us to communicate more fully to our audience in our concerts. In that context, we all really speak our hearts pretty plainly. I tell people we are jacked-up, screwed up idiots who are in constant need of the love of God in our lives."
It seems odd to say that a group as successful as Avalon might just be coming of age, but one senses a new resolve in the foursome to both push the envelope most associated with their genre and accept with deeper grace the "calling to which they have been called." Call it the results of a good mid-life crisis.
"Perhaps you have to go through some of the things we've gone through to reach that level of maturity and say, 'OK, maybe it's not as polished and pretty; and we're not as together as people thought," says Janna. "But coming out of that, we realize what our faith really means and how much we really do need God in our lives. For us, this is who we are; and I can't imagine being anywhere else. This is what we've always wanted to be and do. There is no disappointment here. We get to do what we love and at the same time, we feel like we're making a difference in people's lives."
Jody summarizes, saying, "Avalon always had this slick, polished persona that has been manufactured for us, and with it perhaps has come the idea that we are pop stars and not approachable. Over the past year we reached a point where we decided it's not about the Christian music industry anymore for us. There came a point where we had to say, 'OK, God, we're a ministry. With or without the industry's support, we're going to continue to try and reach people because that's what we are called to do … not as Avalon, but as four people who desire to use their gifts to bless and encourage God's people.'
"We want to be entertaining, and we want to do it with excellence; but, at the same time, we also want to be truly authentic with our audience and tell them who we really are and what we really believe. The only reason we have the right to stand up here and do this is because of what Christ has done for us. That's what Avalon is called to communicate. That's where the rubber meets the road for us."
---
The Road Behind … The Road Ahead
Most Christian pop music fans know that Greg Long isn't just the "new guy in Avalon" or the "husband of Janna from Avalon." They know, for instance, just how long Mr. Long has been singing "How Long," his first single and first No.1 song from his first solo album, "Cross My Heart," in 1995. It was the first of four solo albums that each delivered at least one No. 1 hit on Christian radio.
But after stepping in to help his wife and friends in Avalon when Michael Passons left the group last summer for a number of already booked dates, the resulting blend of voices and hearts led Greg to agree to join the group permanently. And though the familial aspects of that decision are self-evident, being an 'Avalonian' didn't lessen his desire to create music as a solo artist. In fact, if the songs on his fifth and latest solo album, "Born Again" (Christian Records), are any indicator, it would appear the experience has caused the singer to become more personal than ever before.
The album's title song tells the story of Greg's own baptism at the hands of his father, an itinerant preacher/evangelist who led revivals in various parts of the country. "All my life I was a vagabond," he says, recalling a childhood spent on the road. "My two brothers and I were students at a Christian school but only spent five to 10 days a school year at the facility itself. The rest of the time we were out with the family on a bus being tutored by my mom. And when your friends are back home in South Dakota, you make short-term friends at the churches Dad's ministering at, getting real chummy but knowing by Friday you'd be done.
"My dad had to make a choice between being away from his family most of the time or taking them with him in an RV on the road. I personally am glad he chose the latter because whatever was lost in the sense of rooted-ness in a certain place was more than made up for by being with him. I guess it prepared me for the life I live today."
In college, Greg started a men's trio that traveled every summer and weekends for concerts. After four years, he joined up with a touring evangelist for whom Greg would provide the music ministry and lead worship. As Greg says, chuckling a bit, "Yeah … outside of working in the campus bookstore when I was in college, I've never really had a 9-to-5 kind of job. This is who I am. It's in my blood."
As for the title song, Greg explains, "My parents taught me that Jesus loves me and encouraged me to give my heart to Christ, which I did at 5. But they never forced me into any other religious commitments or service. I sang on the platform when I was a kid, but that's because I asked to do that. It wasn't until I was 12 that I asked to be baptized. We were ministering at a church in Florida on the Gulf of Mexico at the time, and the lyric of the song is literally the story of my baptism. In fact, the video we made for the song [included on the enhanced CD] features actual footage of my baptism that was shot for home movies at the time!
"When I first mentioned the title of the song to Don Koch, who I wrote it with, he balked a bit, saying it sounded like a title of so many songs that had been recorded years before. But I said that it wasn't a song about the need to be born again per se, but it was my testimony, my life, my story; and nobody's testimony is invalid. Having said that, I hope that by the end of the chorus, when the lyric says, 'It's not about what I was/It's about what I am," anyone who has found Christ and been found by Christ should be able to relate to those words. I mean, I believe we are compelled to present Jesus to our culture in a way that is contemporary, and I hope the music does that; but the term 'born again' comes out of the mouth of Jesus himself, and there's no reason to shy away from that."
Another very personal song on the new CD is Greg's updated cover of Dallas Holm's classic anthem, "Rise Again," which he says also has a Florida connection.
"The reason I chose to record 'Rise Again' is because I recommitted my life to Christ when I was 14 at a Dallas Holm concert that was also in Florida. His music really, really ministered to me and impacted me; and, without stretching the truth at all, I can tell you that when he called people forward for commitment that night, it was almost like I couldn't resist. I was drawn so strongly to recommit my heart to Christ, there was really no other decision for me in that moment.
"In looking at that now from a music minister's standpoint, there are times when I think to myself, 'I've got to make these people really want to serve Christ or commit their lives to Christ,' but Dallas Holm didn't make that happen for me that night. That was the Spirit of God moving in that place and in my heart who compelled me to do that."
And Long says it's that same Spirit who he calls upon to take his words and music and make something of it that is more than the sum of its parts.
"I don't want to sound hokey, but I pray that God would really and honestly use my music in people's lives because I experienced the power of this music and message in my life growing up. From Dallas Holm, to Russ Taff, to Andraé Crouch, to Edwin Hawkins, the Imperials, 4Him … these people and their music really did make a difference in my life. I can honestly say I'm honored to do the same kind of work and pray to make the same kind of difference in someone else's life."

© 2004 CCM Magazine.  All rights reserved.  Used with permission.  Click here to subscribe.