New Artist Spotlight: Revive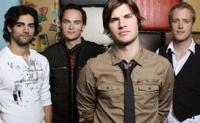 This month, Brandon Heath interviews his tour mates Revive, a new band from Australia.
"I'd love to introduce you to my new friends and tour mates, Revive. Spending the last couple of months with them and seeing their new record launch has been exciting to be a part of this next chapter in their life."
– B.H.
Brandon Heath:  Hey this is Brandon Heath. We're on the phone today with Dave Hanbury from the band Revive. Dave, how are you doing?
Dave Hanbury (Revive, lead vocalist):  I'm good, mate, how about you?
Brandon:  You said, "mate"?
Dave:  That's our thing, "Mate."
Brandon:  Do you mean you're Australian?
Dave:  Didn't you know? You mean you never noticed?! [Laughs]
Brandon:  So, Dave, where you calling from today?
Dave:  We're on the road in Jonesboro, Ark. We've never been here, so we're excited to be here.
Brandon:  That's funny… I'm in Jonesboro!
Dave:  How bizarre!
Brandon:  Are you on tour right now?
Dave:  Yeah, man, I'm on tour with Third Day, and this guy…
Brandon:  What's his name?
Dave:  It starts with a B…
Brandon:  His name is BRANDON HEATH! We're both on tour right now. Where are you; are you in your dressing room right now?
Dave: Yes, this is my dressing room. Where are you?
Brandon:  I'm in my dressing room!
Dave:  That's weird. Budget cuts. [Laughs]
Brandon:  We're both on tour with Third Day, and is this your first U.S. tour?
Dave:  No, it's not actually. We [were] on the road with Third Day for 50 or 60 dates last year. We did spring last year and the fall, so we've done plenty.
Brandon:  So you've been out with Third Day for a while?
Dave:  Yeah, it's pretty sweet.
Brandon:  And you guys … did you move to Nashville? Where are you living?
Dave:  We live in Atlanta at the moment. We relocated from Australia at the beginning of 2008.
Brandon:  So you're not [doing the] typical "move to Nashville, try to get a record deal thing"?
Dave:  No, man.
Brandon:  You moved to Atlanta. How did your relationship start with Third Day?
Dave:  Yeah, our story is anything but typical. Third Day came to Australia three times. They came for the third time in January 2007. We opened for them. It was a pretty funny story. We were supposed to open for Steven Curtis Chapman. They called us and said, "Yes, you've got the opening spot; we're excited," and it fell through an hour later. But the promoter felt really bad and said, "Hey look, the next kind of American artist that comes through, we would love to use you," and it ended up being Third Day. And God works in mysterious ways. … Much of the reason we're here now is those boys. So we ended up opening for them January 2007, and we just got on really well. We asked the guys to watch our set, give us advice, feedback. … We cornered them in catering, and then you know, at the end of the shows in Australia, they said, "Look, if there's anything we can do for you boys, let us know." And we weren't afraid to listen up.
Brandon:  So [when] you guys started … when did you decide it was the right time to move to the U.S.?
Dave:  Before we moved, we did two trips to America as a band. The first was business, meeting with all the record execs in Nashville … that kind of stuff. At the end of the trip, we hung out with the Third Day guys more. We went home, and we kind of gleaned from each other that we decided to work together. So we went home, and we started writing songs and started sending them to Mac [Powell, lead vocalist of Third Day]. We wrote about 50 songs and e-mailed them, and he would go, "I like it; I don't like it; needs work." Then when we had a whole bunch together, he said, "OK, let's do songwriting. Why don't you boys come over to my place for a couple weeks?" We did that, and halfway through the time together he said, "Hey, we're doing a show tomorrow in Charlottesville, Va. Do you guys want to open for us?" And we were like "OK." We were pretty nervous. We jump on the bus, head to Charlottesville; and we do our very first show in the U.S. in front of 4,000 people. I'm talking no café, no nothing. This is our first show. We are really nervous and little did we know. … We talked about working together with Third Day, but this show was an audition. They wanted to see how we got on in front of fans. We got on stage, and I remember all the boys standing side stage with their arms folded and just watching us play. And I get out there, [and] I think as soon as they heard the Aussie accent and we said, "Thanks for having us. Thanks for being so good to us because this is our first time playing in the U.S," there was no going back from there. They loved it. We got off stage, and we went home; and then we waited for about a month to hear back from Third Day. You know … would we be on their next tour? Would they be involved in our album? We got a call from Mac, and he said, "Let's do it. We'd love for you guys to move over here. Can you be here in 10 weeks?" And I was like, "Yeah, no worries!" And then I hung up the phone and said, "Wow. Ten weeks is not that long."
Brandon:  Did you ship a lot of your stuff?
Dave:  It's expensive to ship stuff. You might as well sell it and buy something else. We really brought one guitar each and one suitcase. We sold everything else, sold our cars. Our wives resigned from their jobs. … Mike was not married when I hung up that phone with Mac. He had a serious girlfriend. The three other boys were married, but Mike was not. And he had to get engaged and married in 10 weeks. They honeymooned, and two days later were on a plane to the U.S.
Brandon:  Wow!
Dave:  So it was pretty crazy.  
Brandon:  So you brought wives, everybody. This wasn't just four guys. This was families, replanting. How has it been as far as the reception in front of the U.S. crowd? Has it been better or worse?
Dave:  Honestly, it's been better. … In Australia, people are—even Christian people—have a reserved mentality. And there aren't many Christian folk in Australia, so a lot of audiences would be hostile to what we have to say. So it's pretty hard; we did a lot of school ministry. We would go into schools. [There are] different laws here. Like [in] public school, you have to be really careful about your faith, don't you, sharing what you believe. In Australia, it's weird because there's this carryover from imperial England where you're supposed to share your faith in school. So they have these seminars every two weeks where pastors and chaplains at schools can book us to play. So playing in front of a Third Day audience was easy compared to 1,000 kids where two to three percent would call themselves Christians. So we tried to break down barriers and just rock and have fun and then share our testimonies. … So playing in front of an audience like we will be tonight is pretty easy.
Brandon:  In Jonesboro, Ark.
Dave:  Big show tonight!
Brandon:  I think 5,000.
Dave:  Bring it on!
Brandon:  Well, you said earlier you wrote 50 songs. What was the process like, as far as working with Mac? And I know that Mac produced the record. … So how was it narrowing down the songs to 12? Tell me about that process.
Dave:  It's not easy. You know, I think we as a band, we feel like we need someone producing. Some bands do it themselves. We all write. So as soon as we finish a song, we kind of give it up and give it to the band. We're all pretty equal in what we share in the band. So it's great to have an outside voice going, "This is cool; this isn't. This group of songs is the direction the album should take." It's hard. They're your babies. You love them even if they're ugly. Whittling them down is not easy, but we enjoy the songwriting process and the studio process as well. It's good having someone like Mac who can just [be] honest. And it took him a while, 'cause we were friends first; and so we just needed to say, "Dude, be honest, we can take it. And if the song is terrible, we need to know. We don't want to put it on the record."
Brandon:  It takes a lot of trust and honesty.
Dave:  And I think you can tell the quality of a record by the quality on the cutting room floor. I feel like we had 20 to 25 really good songs. And by getting rid of half of them, hopefully that means the record is even stronger.
Brandon:  And the A&R process is the hardest part. You are trying to pare down. … Will it work commercially? And would it also [work with what] your message is about as a band? Introduce us to the band; there's four of you guys.
Dave:  Classic four piece. I'm on vocals. We have Ty on guitar, Rich on bass, Mike on drums. All easy one-syllable names!
Brandon:  And you are Dave. …
Dave:  Yes, I'm Dave.
Brandon:  How long have you been playing together?
Dave:  Well, we started out—Ty and myself—just bashing around on acoustic guitars. … We weren't very good. I don't know how we got booked, but good friends of ours ran youth groups around the city and they'd book us to play for $50. We said, "We get paid for this? Sweet." And we would play a few covers and a few of our songs, sometimes twice. I don't know what it was like for you starting out, but we're like, "30-minute set? We have to play every song four times!" And it's so funny! We had a good time doing that, and surprisingly, we got booked more and more. We made a little record, like a 5-track EP. We sold them all. It was 500 or 1,000; I can't remember. With that money, we wanted to make a full band record. Then when we got in the studio as a full band, we had so much fun, we were like, "We should do this full band thing." So we found Rich at our church. He's the kind of guy who was playing in 15 bands. He was playing in trios, rock bands, worship bands and wedding bands. He wanted to join and become a full member, instead of getting the $15 a night or whatever we were paying him … terrible! So we said, "If you want to play with us, it has to be exclusive; and you have to say good-bye to the other bands." And then we found Mike on drums. He was young when he joined, maybe 18. He was playing in the worship band at church. We always knew he was a great drummer. So we have had the current line-up for five or six years.
Brandon:  Where did you come up with the name Revive?
Dave:  Well this is pretty embarrassing, but when it was just Tyler and myself, we were struggling for a name. We just called ourselves Me and Ty. Then we had Rich and Mike play, and then it was Me and Ty and Rich and Mike … and it was really terrible. So I remember e-mailing our fans, and we said we have to change our name, give us ideas. And we got some pretty hilarious ones. People would e-mail in and go, "How about Vertical Horizon?" And we were like, "That is a band." How 'bout U3? These terrible names. And it was between Fighting Goliath and Revive.
Brandon:  I'm glad you went with Revive.
Dave:  Yeah, it sounds like an '80s hair band … Fighting Goliath. And it came from Psalms 85: "He will revive their hearts." I believe that's what good music should do—secular or otherwise. Particularly Christian music, the music should be outstanding; the lyrics should follow it. Music that touches the soul just feels good. It's almost transcendent. Something about it that is hard to articulate; it just makes you feel good. It makes you feel close to the One who created that music, our Lord, the master of creativity, the author of all things creative. The same with Christian music; to match those beautiful melodies with great lyrics. That's what we are all about as a band, matching encouraging lyrics with a melody and music that will really move you. "He will revive our hearts." … That made sense to us.
Brandon:  So four of you guys… You just put out your first record. Tell us about the new record, the title, the first single.
Dave:  The first single is "Chorus of the Saints," the title of the record. It came out March 10.
Brandon:  Yeah, I've heard it a few times. [Laughs]
Dave:  That song is really autobiographical of our band. The beginning came from the Old Testament, and you read about the Israelites. You read that God delivered them from the Egyptians, parts the Red Sea in one of the most amazing miracles of all time and, three seconds later, while the Red Sea is still being moved around by God, they are saying, "We want to go back to Egypt. Why are we in this desert? You've abandoned us, Lord." As Christians, we look back and say, "Those guys are so silly. They are so untrusting and foolish." And the truth is, we aren't that different from them. And for our band, unfortunately, we are the same. We are human. And God has done amazing things in our lives. He's provided. Our prayer has always been, "This is your band, Lord, and we'll move forward if You open the doors of opportunity."… Not once has He proven Himself untrustworthy, so why should we stop trusting Him?
Brandon:  As a band, you guys are now living in the U.S. You have your first national record out, under Essential Records, same label as me. I'm on Reunion, but we're label mates. You're out with Third Day and myself. … What's next for the band?
Dave:  You know, I'm not sure. We're excited about the single, about the record; we're getting great feedback. We honestly feel that God has brought us here for a reason. And so, a mantra for us is that His Word is a lamp to our feet. He doesn't provide a flashlight, a billion candles so you can see the entire path. All we have is a lamp. And you hold the lamp in front of you, and you can only take a step forward. And you can only see the next step after that if you move ahead. That's always been the way. The tour ends in May. After that, we're not sure. We can only get to the next step if we take a step forward. So we feel like God is providing for us. We're in no position to doubt Him. We are excited. I'm sure we'll be touring, but who knows what He has in store for us. But we're excited no matter what it is.
Brandon:  Well this is the end of our interview. Everybody, that's Dave Hanbury from the band Revive. We're on tour right now with Third Day.
Dave:  You can find us at reviveband.com and myspace.com/reviveband. We have a cool blog going. We're always on there … twitter, all that stuff.
Brandon:  Thanks, Dave!

To listen to Brandon's full interview with Dave, click here.
For more info on Revive, visit reviveband.com.
Brandon Heath is the Gospel Music Association's new "Male Vocalist of the Year." His monthly "New Artist Spotlight" on CCMmagazine.com introduces fans to new artists currently hitting the scene. Brandon's new single is called "Wait and See," the follow-up to his smash No. 1 hit "Give Me Your Eyes" from his sophomore release, What If We (Reunion), which recently won Brandon multiple Dove Awards including "Song of the Year." For more info, log on to brandonheath.net.

© 2009 CCMmagazine.com.  All rights reserved.  Used with permission. 

**This interview first published on May 28, 2009