New Noise: Until June, The Fray and More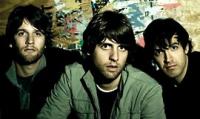 UNTIL JUNE
Few are more familiar with paying dues than Until June whose Flicker Records debut is the first general market-only release for the label most famous for Christian market staple Pillar. Until June began five years ago when its members left school, friends and family behind in Phoenix to pursue their dreams in L.A. The band's name refers to a deadline the guys set for themselves this past year to get a record deal or bust (which they succeeded in doing just in time).
Front-man Josh Ballard had this to say about the release: "This record is a collection of emotions and thoughts we've had over the last five years. Although it touches significantly on heartbreak and pain, the underlying theme is hope and optimism. We wanted this record to be honest, and that is what it is."
The self-titled album, which is distributed by Sony, features piano-driven pop à la Keane and Ben Folds Five. It is bright and purpose-driven, a light to all would-be weary sojourners. Produced by Brian Garcia (Our Lady Peace, Kelly Clarkson), you can hear music, purchase the record or find out more by visiting untiljune.com.
THE FRAY
The Fray's debut release, How to Save a Life (Epic), was recently certified double-platinum. Hailing from Denver, the band's influences range from U2 to Better Than Ezra to Counting Crows. For its headlining tour this summer with OK Go and Mae, The Fray has added a 50-cent "green fee" to ticket prices. These revenues will provide alternate energy sources, recycling bins and biodiesel for "green" tour buses on the road. You can find out more at thefray.net.
LOVEDRUG
Cleveland's Lovedrug recently let loose its second album, Everything Starts Where It Ends. For those who are unfamiliar, the band's name refers to a connection between emotion and motion. You will be hard pressed to find an act more cinematic and grand, with subtle influence from Modest Mouse, The Fire Theft and Radiohead. This new release is ambitious and will certainly send chills across your skin, as it did mine. Spend some time investigating more at lovedrugmusic.com.
THE CHARIOT
The hardcore circus that is The Chariot has spewed forth its sophomore LP, The Fianceé. Among the endless barrage of metal/hardcore over the past several years, this Atlanta, Georgia, five-piece is in a class of its own. The Chariot's live shows are a sight to behold. Josh Scogin (former front-man for Norma Jean) is known to climb ceiling rafters and unleash flying elbow drops that would cripple lesser men. Brutal is an understatement when describing The Chariot's sonics, though the band's lyrical content is high on spiritual prowess. You can check them out at thechariot.com or thefiancee.com.
PAGE FRANCE
The prolific Maryland quintet Page France just released its fifth full-length in four years titled Page France and The Family Telephone. The band's acoustic, leisurely sound is both joyous and folky. Fans of Sufjan Stevens will find much inspiration here, as Page France's instrumentation seems to know no bounds, employing everything from banjos to glockenspiels. You can find out everything you want to know about them at pagefrance.net and myspace.com/pagefrance.

Andrew Schwab is the lead vocalist and lyricist for the band Project 86. He is also the author of three books, as well as an independent journalist. Visit him online at myCCM.org/andrewschwab, andrewschwab.com and project86.com.




© 2007 CCM Magazine. All rights reserved. Used with permission. Click here to try a free issue.