Newcomer Jeremy Riddle Follows in Modern Worship Steps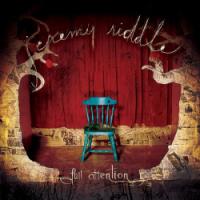 Artist: Jeremy Riddle
Title: "Full Attention"
Label: Varietal/Word
Landing the No. 6 Christian pop radio hit for all of 2006 would be a milestone in any artist's career. Achieving this before ever releasing a CD is an incredible feat that has set the stage for the much-anticipated release of Jeremy Riddle's first album, "Full Attention," this spring.
With as much AC radio airplay as "Sweetly Broken" has received, listeners may not know who Riddle is, but chances are they have heard his song or are already singing it during their times of worship.
Following on the heels of modern worship staples Chris Tomlin, Todd Agnew and David Crowder, "Full Attention" features 12 of Riddle's original worship tracks, produced by Bob Hartry (the Emmy-nominated producer/songwriter who's also a guitarist for Los Angeles band Kite7). With a voice and sound reminiscent of Jeremy Camp or Jason Morant, Riddle fits well into the Vineyard family.
His raw and passionate lyrics draw the listener into an atmosphere of worship. The title track, "Full Attention," captures the heart of the album as he sings, "May Your voice be clearer than all the others/Please keep my eyes fixed on You/Keep me abiding that I may bare fruit." His words encourage listeners as it becomes clear his music is intentionally more about God and less about him. "More Than a Friend" is a tender ballad, while "Call to Praise" is his staple anthem. Although "No Longer Bound" is an upbeat pop/rock tune, his songwriting is surprisingly thought-provoking: "Have we the Church forgotten who we are?/Have we forgotten who we serve? We serve the Almighty Living God."
From another artist in a long line of Vineyard worship leaders, it is refreshing to listen to a project that is both aesthetically pleasing and spiritually uplifting. With an album full of solid, well-written songs yearning for God, it's a safe bet "Sweetly Broken" is merely the first home run for this rookie.





© 2007 CCM Magazine. All rights reserved. Used with permission. Click here to subscribe.