Newsboys Celebrate Christmas! with New Holiday EP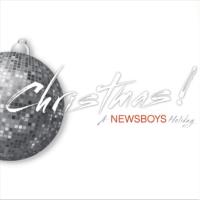 Artist: Newsboys
Title: Christmas! A Newsboys Holiday
Label: Inpop Records

Christmas EP reaffirms band's longevity, but does little to add to original holiday fare …

If there was any doubt that the departure of longtime front man Peter Furler would slow Newsboys down, the band members have quickly put those fears to rest. When Michael Tait took the helm last year, the band hit the ground running and shows no signs of slowing down. The band has toured relentlessly. The singles from the new album have been embraced at radio, and fans across the country are wholeheartedly embracing the new lead singer. This fall, the band seeks to further solidify its staying power with its first Christmas release.

Like most EPs, Christmas! A Newsboys Holiday leaves something to be desired. These songs will blend in at best. All five songs follow traditional arrangements with a dash of Newsboys-flavored pop/rock. While the EP kicks off with a fun version of Mariah Carey's "All I Want for Christmas is You," the most upbeat track is "Jingle Bell Rock," and even that maintains a fairly mid-tempo. Interestingly, Tait's deep vibrato on "The Christmas Song" finds Tait taking cues from Andy Williams and Bing Crosby and is one of the better tracks on this collection. It's a lovely departure for the holiday season, but likely isn't something you'll find on future Newsboys albums. However, it would have been a nice touch to include a few richer vintage songs like this selection.

Most of the songs lean to the "secular" side of the holiday barometer, favoring a four to one ratio of Christmas classics versus the one spiritually-tinged track "O Holy Night." It's a shame that at least one original track didn't make the cut. However, five songs should provide enough fare for Newsboys to receive airplay on Christian radio throughout the holidays and give the members a set list to pull from for their upcoming "Very Merry Christmas Tour" with Newsong later this year.

The holiday offering was produced by Dustin Burnett, Tait and Juan Otero of The Write Bros, half of the production team behind Born Again. Glimpses of Born Again shine through as this short set is comprised of songs that continue to further define the "new" sound of Newsboys.

All in all, Christmas! A Newsboys Holiday is more of a career statement than an artistic one. Despite major line-up changes, Newsboys are here to stay. And this is one more way the band is tirelessly working to solidify their place in the industry. They obviously have an incredible work ethic. It would be nice to see those efforts channeled into a more artistic full-length Christmas effort in 2011. Hopefully, this time next year, the band will feel more comfortable in their new skin and be in a better position to spread their wings with a seasonal effort that is truly unique.


**This review first published on October 26, 2010.
Find the latest Newsboys music videos at Godtube.com!