No Musical Departures for Mark Schultz on "Beautiful"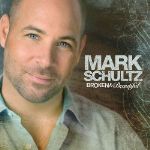 Artist:  Mark Schultz
Title:  "Broken & Beautiful"
Label:  Word Records
They say that one man's trash is another man's treasure. And it's pretty interesting to see that exchange.
When someone to takes an item that they no longer have any use for and gives it to someone else for their use, it gives new life to that item. Whether it's some clothes that you've grown out of, a toaster you don't have the time or know-how to fix, or a bicycle you never ride anymore, it's funny how, in the right hands, these useless items can serve a very distinct purpose.
Thinking along those lines, Mark Schultz returns with another album full of songs that tell stories from life. Known largely as a storyteller, Schultz steps into that role again, this time exploring the theme of redemption and finding beauty amidst the brokenness of everyday life. Introduced on his live project from a year ago, "Walking Her Home" quickly stands out as one of the prime examples of this aspect of Schultz's writing. The song is based on an elderly couple that Schultz knows and tells about the joys of growing old together, enjoying life and loving each other until the very end where we find a picture of beautiful love. Other story songs on the album include "Everything to Me," which tells the story of his adoption, "She Was Watching," which shares the sentiments of a father giving his daughter away at her wedding, and the title track, which shares about being honest with each other about our shortcomings.
However, tender ballads don't dominate the entire track listing as listeners will also find the standard rockier tracks such as "40 Days" and "Now That You've Come Into My Life" as well as some upbeat worship tracks, "God of Life" and "Lord You Are." Though the album covers all these bases, it's all held together by the charm of Mark Schultz. The vocals and music are exactly what listeners have come to expect from him, with a touch of piano-based pop, some edgier, but straight-laced rock tracks, and the soaring ballads that beg to become feel-good network movies.
If you enjoy Mark Schultz's past material, chances are, you'll enjoy "Broken & Beautiful" as well. The only problem is that you may feel like you've heard it before since there's not much departure from this back catalog musically. The stories have changed, but the song structures are pretty much the same. Thus, fans who are anticipating where Schultz's next step may take him, might be surprised or discouraged to find that it was more of a step sideways than forward.


 


© 2006 CMCentral.com.  All rights reserved.  Used with permission. 

Visit CMCentral.com now and join the single largest online community of Christian music fans on the internet.  CMCentral features  daily music news, exclusive interviews, album reviews, weekly devotions and feature articles written by some of your favorite Christian artists, and much more.  CMCentral is also the home of the most popular Forum for Christian music fans that you'll find anywhere on the Internet.  Come see what all the buzz is about!